LeBron James vs. Michael Jordan: Who Had The Most Impressive Space Jam Victory?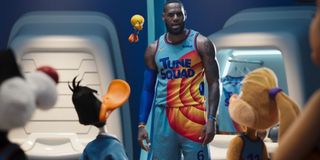 CinemaBlend participates in affiliate programs with various companies. We may earn a commission when you click on or make purchases via links.
LeBron James has been compared to Michael Jordan every step of his career. It's kind of hard not to, given his accomplishments on and off the court and the fact that he recently starred in the Space Jam sequel. We can talk rings, achievements and unfair contracts for star supporting roles until the cows come home, but when will we discuss what really matters? We don't talk about the quality of each all-star's win in Space Jam and Space Jam: A New Legacy, respectively, and we really should.
I've come up with five categories to rate LeBron James and Michael Jordan's respective victories in their Space Jam movies, and I believe I've found a way to determine who had the better quality win between the two. Obviously I'll be tackling spoilers from both Space Jam and Space Jam: A New Legacy, so keep that in mind before diving in!
The Stakes Of The Game
Michael Jordan: Michael Jordan was sucked into the Looney Tunes world to prevent Bugs Bunny and the gang from being sent to be the attractions of alien Mr. Swackhammer's theme park Moron Mountain. Mid-game, Jordan introduced another wager that offered himself up as an attraction to the theme park, but only if the Tune Squad lost. In a world where the Monstars won, Michael Jordan and the Looney Tunes would be kept on Moron Mountain, and multiple NBA stars would be unable to resume their former level of talent.
LeBron James: Al G Rhythm sucked LeBron James and a considerable chunk of internet viewers into the Warner Bros Serververse, where they'd all be doomed to spend all eternity if the Goon Squad emerged victorious over the Tune Squad. Oh yeah, and the Looney Tunes would be deleted from the server permanently. Al G Rhythm was legitimately going to murder the Looney Tunes, which is debatably worse than keeping the tens of thousands of living people in attendance stuck in a digital hellscape for all eternity.
The Winner: LeBron James
Looking at the big picture here, way more people would be impacted by the stakes in Space Jam: A New Legacy than the original. You can't understate the insane loss of people worldwide who would forever be lost in the Warner Bros digital catalog compared to the Looney Tunes and Michael Jordan being sent off to a theme park in space. Sorry to say this to MJ, but I think it's pretty obvious LeBron's win was far more substantial given all that was at stake in comparison.
Quality Of Opponents
Michael Jordan: The Nerdlucks needed NBA talent fast, and they found it in some pretty reliable players. The Nerdlucks used the mojo of Charles Barkley, Patrick Ewing, Larry Johnson, Shawn Bradley and Muggsy Bogues, and played some real hard-nosed basketball. It's hard not to given the hard-nosed style of '90s basketball play, This is a formidable lineup that would've taken out any lineup of Jordan's Bulls in a 7-game series, and of that, I feel rather confident.
LeBron James: Al G Rhythm and Dominic James' Goon Squad utilized motion capture Dom took from Damian Lillard, Diana Taurasi, Anthony Davis, Klay Thompson, Nneka Ogwumike, but ramped them up with monster modifications. Then Rhythm convinced Dom to modify his own in-game attributes and make himself a much better basketball player than he was in real life. Without a doubt, these superstars, paired with their unique abilities, were forces to be reckoned with on the court.
Winner: Michael Jordan
Let's be honest, as good as Dom's game was, it didn't emphasize basketball fundamentals. He didn't really need superstar NBA talent for those characters because they used very little of their skillset during the game in Space Jam: A New Legacy. You can't say that with Space Jam, where the Monstars brutalized the Tunes to the point that they were barely able to withstand the slam and jam style for an entire game. I think if the Monstars and Goon Squad squared off in an actual basketball game, even with powers, the Monstars would walk away victorious. Therefore, they are the superior opponents.
Quality Of Teammate Support
Michael Jordan: The Looney Tunes got dominated in the first half against the Monstars, I can't dispute that. With that said, they still had Michael Jordan on their team, and after a half-time pep talk and some trickery, they stepped it up. The Tunes went about some of their classic antics in the second half, and that was a key reason the Tune Squad got back in the game in Space Jam. Again though, they had Michael Jordan, who got it done in the end.
LeBron James: Space Jam: A New Legacy's big match is basketball within a video game, so the rules are somehow looser than they were in Space Jam. With that said, it's more than fair to say that LeBron James was more of a detriment to his team at the start, as he stressed fundamentals as opposed to silliness. It wasn't until he stepped aside and let the Tunes do their thing that they got back in it, and together, they brought their team to victory.
Winner: LeBron James
This may be controversial, but I think the fact that LeBron James was able to identify his own weakness in the game makes what he achieved with the Tune Squad much greater in comparison. I've seen enough of The Last Dance to know that Michael Jordan would not have let those Tunes forget one second of that game if they lost and stress that he had nothing to do with the fact they're on Moron Mountain. In this specific instance, I credit James for being the better team leader and admitting he was wrong to the Looney Tunes.
Best Celebrity Cameo
Michael Jordan: Space Jam has a solid number of celebrity cameos, though none are as prominent as Bill Murray's late-game arrival as Michael Jordan's teammate. Murray's arrival in the final seconds of the game is absolutely ridiculous, but at the same time, it's awesome because he's just as useful as 90% of the Looney Tunes on the court. He's ultimately there to feed Jordan additional confidence and just be a warm body on the court to help Jordan seal the game.
LeBron James: Space Jam: A New Legacy sprung on a once-in-a-lifetime joke and managed to get Michael B. Jordan to make a brief appearance in the movie for a fake-out Michael Jordan arrival in the sequel. Without exaggeration, it's the stand-out joke of the movie, and I don't think anyone will ever be able to top it when attempting to make comparisons between the two famous Michael Jordans.
Winner: Michael Jordan
Look, no matter which cameo you like more, it all comes back to Michael Jordan. Bill Murray is a comedy icon, and his mere arrival in Space Jam was a massive accomplishment on its own. The Michael B. Jordan joke may be better, but without Michael Jordan, the joke falls flat. Therefore, I have to give this one to Jordan.
Best Buzzer Beater
Michael Jordan: With seconds to go on the clock, Michael Jordan rushed up to half court knowing what he had to do. He scaled the body of a fallen Monstar for added height, and from half-court, he attempted to slam the ball in the basket. Of course, the Monstars tried to hold him back, but MJ merely extended his arm beyond the realm of what's possible and slammed it in. This is why he's great.
LeBron James: LeBron James also had the ball in his hands in the final seconds of his game against the Goon Squad, and also went for the dunk. Al G Rhythm went up and tried to keep LeBron from scoring, but thanks to a double jump ability from his son Dom James, Lebron was able to slam it home and put Rhythm on a poster.
Winner: Michael Jordan
I can't express enough how lackluster LeBron James' final shot in Space Jam: A New Legacy was, especially when that game overall was far more over the top than Space Jam. You just can't argue that what James did was quite as great as Jordan's half-court dunk game-winner, and I'll take that to my grave.
With the results tallied, I have Michael Jordan as the winner in a 3-2 decision against LeBron James. Space Jam: A New Legacy has its merits, and Lebron James did the world a huge solid saving thousands of people from the WB Serververse, but you gotta give it up to Michael Jordan. He's the GOAT in this debate, and I'll hear nothing different on the matter.
Of course, all opinions are welcome, so sound off in the poll below on who you thought had the more impressive win and check out Space Jam: A New Legacy while it's still on HBO Max. Do you agree MJ's win is the best, or Lebron's? Wherever you fall, be sure to let us know!
This poll is no longer available.
Mick likes good television, but also reality television. He grew up on Star Wars, DC, Marvel, and pro wrestling and loves to discuss and dissect most of it. He's been writing online for over a decade and never dreamed he'd be in the position he is today.
Your Daily Blend of Entertainment News
Thank you for signing up to CinemaBlend. You will receive a verification email shortly.
There was a problem. Please refresh the page and try again.