Space Jam: A New Legacy: The Wildest Warner Bros References In The Movie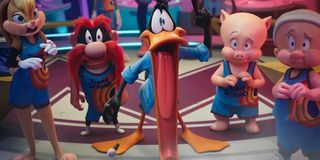 (Image credit: (Warner Bros))
Now you've seen what Disney can do when it translates its beloved animated characters to live-action with blockbusters such as Beauty and the Beast and Aladdin, but when Warner Bros went for it to bring back the Looney Tunes for Space Jam: A New Legacy, wow did they pull all the stops. The sequel to 1997's Space Jam is packed with references from the studio's vast library of franchises including Harry Potter, DC comics and Game of Thrones.
Space Jam: A New Legacy may have bothered critics for leaning into the branding of it all, but come on, seeing the Looney Tunes play basketball on the Warner Bros ServerVerse was a ton of fun too. Let's talk about the wildest movie references from WB movies that surprised us over the course of the movie:
LeBron Being Sorted As A Hufflepuff
The Harry Potter movies had a major presence in A New Legacy as the Wizarding World was seen with an entire planet devoted to it in the Warner Bros ServerVerse. Considering how big the franchise is to the studio, this isn't wild in and of itself, but seeing a cartoon LeBron James being sorted into Hufflepuff certainly was. Come on, the basketball legend is either a Gryffindor or Slytherin. You cannot convince me James is a Hufflepuff especially after Al-G pointed out how much he's switched teams over the years to his movie son.
LeBron As The Robin To Bugs' Batman
Of course if Warner Bros is going to show off their IPs, DC Comics had to make their way into the movie, but one way the filmmakers decided to do it is especially clever. Cartoon LeBron James is placed in a Robin costume in the sidecar to Bugs Bunny's Batman in a funny nod to basketball fans often calling a team's star the Batman and their co-star Robin. Space Jam is Bugs Bunny's show and by the end it is clear the Looney Tune is the movie's MVP. Sorry LeBron!
Lola Bunny Being Recruited By Themyscira
Another fun DC reference came in the form of the reintroduction of Lola Bunny, who is seen hanging out in Themyscira with Wonder Woman and about to complete a challenge with her Amazons. It's a far cry from the original Lola Bunny who gets Bugs all flustered when she stops at the court to join the Tune Squad. All the focus is more on Lola's appearance in the '90s version where A New Legacy has the character being recognized more for her skills.
Foghorn Leghorn As Game Of Thrones' Daenerys
As Space Jam: A New Legacy goes along, the Looney Tunes fill a number of famous roles from Warner Bros franchises and the filmmakers definitely went for the unexpected. For example, I would not have thought of Foghorn Leghorn first to dress up and say "Winter is Coming" as the Queen of Dragons Daenerys Targaryen but here we are.
Granny And Speedy Dodging Bullets Matrix Style
Space Jam: A New Legacy did an inspired job at bringing Granny into modern times with some seriously kick-ass moments. Between downing a martini at halftime and dressing in Matrix gear with Speedy to get us nostalgic about the 1999 science fiction film, she was stealing the spotlight a lot in the movie. The Granny-Matrix crossover is just purely wild the more we think about it and definitely a hilarious highlight among A New Legacy's WB references.
Rick And Morty Dropping Off The Tazmanian Devil
Alright, so we expected some popular Warner Bros movies to pop up throughout Space Jam: A New Legacy, but Rick & Morty? Now that was a shocker. The animated series is an Adult Swim show, but that network is owned by Warner Media, making it an off color cameo, but very much another WB reference. The adventurers were seen dropping off Tazmanian Devil to Bugs Bunny as the Tune Squad forms.
The Droogs From A Clockwork Orange Standing Court-side
A New Legacy didn't forget to mention some of the studio's classics either, with The Wizard of Oz and Casablanca among the movies being referenced. But in an especially odd choice in the film, A Clockwork Orange's Droogs can be seen in the audience of the big basketball game cheering on the Goon Squad during the movie. The characters in Stanley Kubrick's movie are violent fellows who sexually assault a woman in front of her decapitated husband in the 1971 movie. The characters' inclusion has in fact caused some backlash, especially after Pepe Le Pew was cut from an appearance.
Elmer Fudd As Austin Powers' Mini-Me
Another perhaps dated reference Warner Bros decided to include in Space Jam, perhaps for its adult viewers is a segment where we venture into the world of Austin Powers. During the short sequence, Elmer Fudd replaces Verne Troyer to appear as Mini-Me in a bit of a deepcut Warner Bros IP moment in the movie. It's another funny gag we just didn't see coming.
Al-G Quoting A Denzel Washington Line From Training Day
Yet another one for the parents and adults in the crowd came when Don Cheadle's villain Al G. Rhythm dropped a famous line from 2001's Training Day. In the final quarter of the basketball game when LeBron's movie son switches over to the Tune Squad, Al-G joins the game with a more advanced character for them to beat. He references the line "King Kong ain't got shit on me," which Denzel Washington's character says in the Warner Bros crime drama. It's funny because King Kong is literally in the audience watching the game during the moment.
Wile E. Coyote As A War Boy In The Mad Max Scene
The Looney Tunes in Mad Max attire, too? Yeah, that happened! Bugs Bunny and LeBron James find Wile E. Coyote and his pal Road Runner in the setting of Fury Road with Coyote as a full on War Boy during the sequence.
All in all, there's so many easter eggs to beloved movies in Space Jam to count. Next time you watch the movie in theaters or HBO Max, really pay attention to the audience during the big game because it's flooded with more we didn't get to.
YA genre tribute. Horror May Queen. Word webslinger. All her writing should be read in Sarah Connor's Terminator 2 voice over.
Your Daily Blend of Entertainment News
Thank you for signing up to CinemaBlend. You will receive a verification email shortly.
There was a problem. Please refresh the page and try again.