What The Original Space Jam Cast Is Doing Now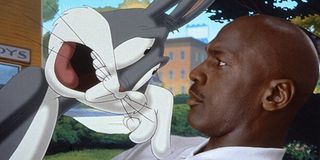 This past weekend, it was, once again, time to slam with Space Jam: A New Legacy, a decades-later continuation to 1996's mega-hit that previously starred Michael Jordan, Wayne Knight, and Bill Murray, along with a number of A-list basketball superstars like Larry Bird and Charles Barkley. Since the Looney Tunes are the only returning stars this time around, including Bugs Bunny, one can't help but wonder what the Space Jam cast is doing now. Therefore, we'll take this moment to see what's going on with the various actors and athletes at the forefront of this '90s live-action/animated sports film hybrid.
Michael Jordan (Himself)
After years of dominating the basketball court, Michael Jordan took over the big screen with his starring role in 1996's Space Jam. Widely considered the greatest and most famous basketball player ever, Jordan played shooting guard for 15 seasons with the Chicago Bulls, during which he won six championships. During his tenure on the court, where he was nicknamed "Air Jordan," MJ became a central figure in popularizing NBA around the world in the 1980s and 1990s. He's also one of the most marketed athletes in history, particularly with the success of Nike's Air Jordan sneakers. His commercials with Bugs Bunny inspired this mega-hit movie, which remains his only film and starring credit. The star athlete holds several accolades, including six NBA Finals MVP Awards.
Following his time with the Bulls, Michael Jordan briefly performed with the Washington Wizards. Later, he became the owner and chairman of the Charlotte Hornets, as well as 23XI Racing in the NASCAR Cup Series. Most notably, Jordan was the focus behind ESPN's Emmy-winning documentary mini-series, The Last Dance, which aired last year.
Bugs Bunny (Himself)
In his major non-anthology feature film debut, Bugs Bunny received second billing in the credits — and first billing on the poster — as the cartoon lead of Space Jam. Created in the late 1930s, Bunny was the star of several Looney Tunes shorts, particularly as his characterization was defined in Tex Avery's Oscar-nominated 1940 short, A Wild Hare.
Having starred in 160-plus cartoon shorts (more than any other cartoon character) between the 1940s and 1960s, Bugs Bunny went on to become the face of Warner Bros., particularly as the cartoon rabbit would be seen and marketed on the company's logo, as well as compilation films, TV shows, amusement park rides, video games, comics, music records, and commercials — including the famous Nike collaboration with Michael Jordan that inspired this 1996 film, the character's first starring role. Later, Bunny frontlined Looney Tunes: Back in Action. Currently, the rabbit is on the big screen with Space Jam: A New Legacy.
In the movie, Bugs was voiced by Billy West, best known for his voice work in Doug, Futurama, The Ren & Stimpy Show, and M&M commercials. These days, he voices numerous roles in Netflix's Disenchantment.
Wayne Knight (Stan Podolak)
As Stan Podolak, Michael Jordan's eager-to-please publicist, Wayne Knight played a bubbly personality in 1996's Space Jam. Most notably, Knight held a recurring role as the pesky Newman in NBC's Seinfeld. He's also known for playing Don Orville in NBC's 3rd Rock from the Sun. Moreover, the television actor had main parts in The Exes and The Truth About the Harry Quebert Affair. Furthermore, Knight provided a recurring role on Hot in Cleveland. Additionally, as a voice performer, the character actor was heard in Buzz Lightyear of Star Command, Xiaolin Showdown, Catscratch, and Harley Quinn.
Outside of TV, Wayne Knight is best known for Jurassic Park. He's also seen in Rat Race, Punisher: War Zone, Hail, Caesar!, Blindspotting, For Richer or Poorer, Basic Instinct, To Die For, JFK, and Dirty Dancing. Wayne Knight is heard in Toy Story 2, Tarzan, Kung Fu Panda 3, and Hercules. Recently, he was seen in The Very Excellent Mr. Dundee and 12 Mighty Orphans. Next, Knight will soon be heard in Back to the Outback.
Bill Murray (Himself)
In the role that he was born to play, Bill Murray plays a jocular version of his star self in Space Jam. Rising to fame through his dynamic performances on Saturday Night Live, which won him an Emmy, Murray became a movie star through his leading roles in the Ghostbusters movies, Caddyshack, Meatballs, Tootsie, What About Bob?, Scrooged, Broken Flowers, Osmosis Jones, and Groundhog Day. Later, he received an Oscar-nominated for his dramatic turn in Lost in Translation. Additionally, Murray collaborated with Wes Anderson on Rushmore, The Royal Tenenbaums, The Life Aquatic with Steve Zissou, Fantastic Mr. Fox, The Grand Budapest Hotel, and Isle of Dogs. He also lent his voice to the Garfield films. Furthermore, the actor co-directed/starred in Quick Change.
Most recently, Bill Murray starred in Sofia Coppola's On the Rocks. Next, he'll reunite with Wes Anderson twice more in The French Dispatch and the auteur's upcoming follow-up. He'll also appear in Ghostbusters: Afterlife and The Roku Channel's The Now. Furthermore, Murray is expected to star in The Greatest Beer Run and lend his voice to Bum's Rush, with Anne Hathaway.
Danny DeVito (Mr. Swackhammer)
Lending his voice to the part of Mr. Swackhammer, a nefarious outer space business owner who wants to kidnap the Looney Tunes for his own amusement (park), Danny DeVito is heard throughout Space Jam. Most notably, DeVito is an Emmy-winning actor for his performance as Louie De Palma in Taxi. Additionally, he's well-known for his long-running portrayal as Frank Reynolds in It's Always Sunny in Philadelphia. Outside of TV, DeVito is best known for One Flew Over the Cuckoo's Nest, Romancing the Stone, Terms of Endearment, Get Shorty, Twins, Ruthless People, Batman Returns, Big Fish, L.A. Confidential, and Dumbo. Additionally, DeVito directed and starred in Throw Momma From The Train, The War of the Roses, Hoffa, Matilda, and Death to Smoochy. He also helmed Duplex. Furthermore, DeVito is an Oscar-nominated producer behind Erin Brockovich. The actor also produced Reality Bites, Out Of Sight, and Garden State.
Most recently, Danny DeVito was heard in The One and Only Ivan. Next, the performer will be seen in The Survivor. Additionally, DeVito will voice Satan in FXX's Little Demon.
Theresa Randle (Juanita Jordan)
Playing the part of Juanita Jordan, Michael's wife, Theresa Randle has a maternal role in Space Jam. Elsewhere, Randle was seen in Malcolm X, Spawn, Girl 6, Beverly Hills Cop III, Sugar Hill, Bad Boys, and Bad Boys II. She also appeared in Jungle Fever, King of New York, CB4, Maid to Order, Easy Wheels, The Five Heartbeats, The Guardian, Heart Condition, Near Dark, and Shit Year. Furthermore, the actress took on the part of Capt. Amy Jennings in The Hunt for Eagle One and The Hunt For Eagle One: Crash Point.
On TV, meanwhile, Theresa Randle appeared in the main cast of Lifetime's State of Mind. Her other TV credits include Law & Order: Criminal Intent, Seinfeld, and A Different World. She can also be heard in The Twisted Tales of Felix the Cat and Duckman: Private Dick/Family Man. Additionally, Randle played a part in NBC's Livin' for Love: The Natalie Cole Story. Last year, following a decade-long absence from acting, Randle reprised her role as Theresa Burnett in last year's threequel, Bad Boys for Life.
Charles Barkley (Himself)
As a comically inept version of himself, Charles Barkley plays a comedic supporting role in Space Jam. Elsewhere, the basketball star played on-screen versions of himself in Forget Paris, He Got Game, and Thunderstruck. He can also be seen in Suits, The Bernie Mac Show, Modern Family, The Goldbergs, Arli$$, and V.I.P. Additionally, Barkley can be heard in We Bare Bears and Clerks: The Animated Series. Outside of his acting credits, Barkley was a power forward for the Philadelphia 76ers, Phoenix Suns, and Houston Rockets. Furthermore, he competed in the 1992 and 1996 Olympic Games, particularly in the award-winning Dream Team alongside Michael Jordan and Larry Bird.
Considered one of the greatest basketball players of all time, Charles Barkley would transition from playing the sport professionally to commenting on NBA coverage for TNT. He has won multiple Emmys for his television work. Additionally, Barkley is the author of several autobiographical books. Next, Barkley will star in the new comedy film, COWBOY.MOV. He'll also lend his voice to the upcoming animated movie, Rumble.
Larry Bird (Himself)
Seen as a deadpan version of himself, Larry Bird played a comedic variation of his real-life persona in Space Jam. Prior to this film role, Bird also played himself in Blue Chips. Additionally, the athlete lent his voice to an episode of Futurama. During his time on the court, where he was considered one of the greatest players in basketball history, Bird was a power forward for the Boston Celtics. In addition to all his accolades, including three consecutive NBA Most Valuable Player Awards, Bird was also part of the gold medal-winning 1992 United States men's Olympic basketball team, better known as the Dream Team, which included Space Jam co-stars Michael Jordan and Charles Barkley.
Additionally, between 1997 and 2000, the former basketball player coached the Indiana Pacers. He was later hired as the president of basketball operations, and he was named NBA Executive of the Year during the 2011-2012 NBA season, thus becoming the only person in NBA history to win NBA MVP, Coach of the Year, and Executive of the Year. Nowadays, Larry Bird continues to work with the Indiana Pacers in an advisory fashion.
Manner Washington (Jeffrey Jordan)
As Jeffrey Jordan, Michael Jordan's eldest son, Manner Washington has a supporting role in Space Jam. Following this performance, Washington had a bit part in Steel. He was last seen in NBC's Players. The child actor has kept a low profile in recent years.
Eric Gordon (Marcus Jordan)
In the role of Marcus Jordan, MJ's youngest son, Eric Gordon has a minor role in Space Jam. Following this big-screen debut, Gordon remained on the small screen, appearing in TV shows like 413 Hope St. and Hungry. Additionally, the actor was seen in short films like 2000's Eggo Waf-fulls and 2019's Cross Addiction. Today, Gordon is credited as an entrepreneur, designer, and lifestyle manager, according to his Instagram bio.
Penny Bae Bridges (Jasmine Jordan)
Playing the part of Jasmine Jordan, Michael's daughter, Penny Bae Bridges made her acting debut in 1996's Space Jam. Her other notable film credits include Nothing to Lose, True Crime, Baadasssss!, and Dancing in September. She can also be seen in Building Bridges, The Waterfront, and Frankie D. Furthermore, the actress appeared in 1997's short film, A Devil Disguised. Additionally, on television, Bridges appeared in Boy Meets World, Family Law, The Parent 'Hood, and For Your Love. She was last seen in a recurring role on UPN's Half & Half. In high school, Bridges transitioned from acting to sports as a teen, according to what she told HuffPost in 2016. The article also noted that she's an artist, a musician and styles hair at a salon.
Space Jam is available to stream on HBO Max. Additionally, Space Jam: A New Legacy is currently in theaters and on HBO Max.
Your Daily Blend of Entertainment News
Will is an entertainment writer based in Pittsburgh, PA. His writing can also be found in The Playlist, Cut Print Film, We Got This Covered, The Young Folks, Slate and other outlets. He also co-hosts the weekly film/TV podcast Cinemaholics with Jon Negroni and he likes to think he's a professional Garfield enthusiast.