That Time Matt Damon Auditioned To Play Robin In Batman… Twice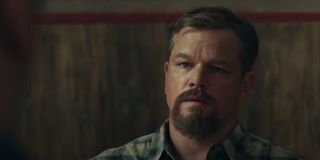 Many people consider Gus Van Sant's Good Will Hunting to be Matt Damon's breakout role. It's hard to imagine the Bourne Identity star becoming famous for anything other than the iconic drama that also starred Ben Affleck and the late Robin Williams. However, Matt Damon could have made a name in Hollywood for a very different part - namely, the role of Robin in a Batman movie.
In a recent interview with Josh Horowitz for the Happy Sad Confused podcast , Matt Damon talked about his early career and the process of auditioning. Matt Damon revealed that he was considered for the role of Batman's classic sidekick, Robin/Dick Grayson, in Tim Burton's 1989 movie Batman (even though Robin never actually appeared in that story). In the actor's words:
Me neither, Matt Damon. However, it's a tactic commonly used by movie producers to keep spoilers from leaking. Marvel movies in particular are notorious for using fake scripts, and Marvel Studios producers have even so far as to not even tell the actors what scene they're supposed to be filming. That fake script probably made the audition difficult for a young Matt Damon. It doesn't really make much sense to bring an actor in to audition for Batman's sidekick and then not include the Dark Knight in said scene.
To add insult to injury, Matt Damon auditioned for Robin again in 1993, where he would have starred opposite Val Kilmer as Batman. The movie studio had Matt Damon come in for a screen test, but unfortunately, they already had another actor in mind. Matt Damon elaborated:
You may recognize Chris O'Donnell from his role as Special Agent Grisha 'G' Callen on the hit CBS police procedural NCIS: Los Angeles. He ended up playing Robin in Batman Forever, as well as the 1997 sequel Batman & Robin. Maybe it was for the best that Chris O'Donnell got the role of Robin, since Matt Damon went on to star in multiple iconic films. including Good Will Hunting, Saving Private Ryan, The Talented Mr. Ripley... the list goes on.
You can catch Matt Damon's most recent film, Stillwater, on Amazon Prime Video. He'll also return to the Marvel Cinematic Universe next year in Thor: Love and Thunder.
Actor, singer, and occasional dancer. Likes: fashion, books, old buildings. Dislikes: cilantro, the NJ Turnpike, sneaker wedges.
Your Daily Blend of Entertainment News
Thank you for signing up to CinemaBlend. You will receive a verification email shortly.
There was a problem. Please refresh the page and try again.