Jason Momoa Has A Great Explanation For Why He Doesn't Want His Kids To Be Actors, Despite His Hollywood Success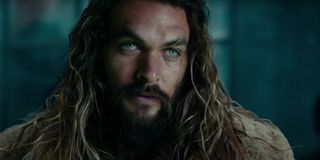 Hollywood is full of famous families. It's not uncommon for a child to follow in their parents' acting footsteps. Just ask Bryce Dallas Howard, the daughter of director Ron Howard, or Dakota Johnson, whose parents are Don Johnson and Melanie Griffith. Some parents support their children's ambitions to perform, but Aquaman star Jason Momoa feels a little differently. It may seem off-putting at first, but it's all out of love: he actually has a really good reason for not wanting his kids to be actors.
Children were one of the main topics of discussion when Jason Momoa joined Lisa Zima on Entertainment Tonight to promote his upcoming film, the Netflix original thriller Sweet Girl. The new movie features Jason Momoa as Cooper, a father out for revenge and seeking to protect his young daughter. When asked about the future of his own kids, 14-year-old Lola and 12-year-old Nakoa-Wolf, Jason Momoa revealed that he wants to keep them as far away from Hollywood as possible - even though one of them has their eye on the silver screen. Luckily, it's not as ill-spirited as it sounds. It actually comes from a place of fatherly worry, with Jason Momoa elaborating:
See? All is well. Jason Momoa is just a concerned parent who wants to protect his kids from the cruel world. He's more than justified, as actors, especially those in the spotlight, have to deal with a huge amount of criticism. And no surprise, some of it can be pretty harsh. Considering that Jason Momoa's kids have a famous father, mother (actress Lisa Bonet) and half-sister (actress Zoe Kravitz), they're probably already under the media microscope. We all know what can happen to child stars and teen actors who face intense public scrutiny. If Jason Momoa wants to keep his kids from going down that path, he's well within his rights.
Sweet Girl will drop on Netflix Friday, August 20. It's directed by Brian Mendoza (Road to Paloma), who previously worked with Jason Momoa on the historical drama Frontier. The Netflix action thriller will also star Isabela Merced (Dora and the Lost City of Gold) as Cooper's daughter Rachel, as well as Adria Arjona (Good Omens, Monsterland) and Justin Bartha (The Good Fight, The Hangover) in supporting roles.
Jason Momoa is also currently shooting Aquaman and the Lost Kingdom, which will be released on December 16, 2022. Stay tuned to CinemaBlend for updates on that and the actor's other professional endeavors.
Actor, singer, and occasional dancer. Likes: fashion, books, old buildings. Dislikes: cilantro, the NJ Turnpike, sneaker wedges.
Your Daily Blend of Entertainment News
Thank you for signing up to CinemaBlend. You will receive a verification email shortly.
There was a problem. Please refresh the page and try again.