James Bond: That Time Henry Cavill Was Told His Body Wasn't Right For 007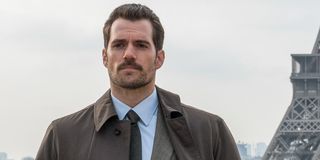 In-demand British Actors are seemingly always in the mix for being the next James Bond. As Daniel Craig's final appearance as Bond approaches, there are more and more rumors about who will take up the mantle. Henry Cavill, whose new film Argylle is headed to streaming, was once in the running for Bond when he was a young up and comer. The Witcher star has recently opened up about the time he was told his body wasn't right for 007.
During a screen test for a James Bond film when he was 21 years old, Henry Cavill was told his body wasn't suitable for the role. Cavill was likely one of many young British actors who were testing for the part, and the experience seems to have left a mark on the Man of Steel star. Henry Cavill remarked about his experience, telling Insider:
Looks like the director told Henry Cavill that he didn't have the right body to play Bond. Cavill explains that it's not as bad as it sounds, as the comment was more advice and tough love. It was actually a lesson for the young actor, and the comment was seemingly more mentorship than a vicious takedown of a young man's confidence. Henry Cavill has played Superman and has the physique to match the most iconic superhero ever, but he wasn't always the pinnacle of fitness we see him as today.
Later in the interview, Henry Cavill explains his fitness journey, stating that he grew up as a "chubby kid" who was very self-conscious about taking his shirt off. Cavill had spoken about his childhood before and how it inspired him to start working out, putting him on the path to where he is now. Years of dedication later, Cavill now has the physique and work ethic everyone wishes they had.
Henry Cavill has so many awesome projects in the works, including a reboot of the 80's classic Highlander. There's always the possibility he could be the new Bond after No Time To Die, bringing his experience full circle, or we might see him as Superman once again going toe to toe with Black Adam.
The operators behind the Bond franchise have been thinking about what's next for quite a while. They could go in several directions, including some young up-and-comers like Snake Eyes's Henry Golding or Bridgerton's Regé-Jean Page. They could always opt for the sure thing with Cavill, who has already familiar with being a spy and definitely looks the part.
Your Daily Blend of Entertainment News
Movie and TV obsessive. A good Heist movie is the way to my heart. Enjoyer of everything from Marvel Movies to Rom-coms.
Your Daily Blend of Entertainment News
Thank you for signing up to CinemaBlend. You will receive a verification email shortly.
There was a problem. Please refresh the page and try again.