Batman's Michael Keaton Recalls The 'Pressure' That Came With Making The Tim Burton Movie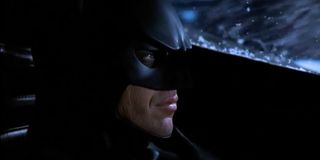 In a world where Marvel movies make ungodly amounts of money, it's hard to imagine a society that's not obsessed with all things heroic. But once upon a time (read: the 1980s), superhero movies were almost nonexistent, much less a global phenomenon. The superhero film that would change all of that was, of course, Tim Burton's 1989 Batman adaptation movie was a smash hit and set the stage for a slew of comic book films and shows. But according to Michael Keaton, who played the titular Dark Knight, the "pressure" to succeed was almost overwhelming.
With two new films on the way, Michael Keaton sat down with Entertainment Weekly for a comprehensive career retrospective. In addition to discussing his other iconic movies, like the Tim Burton classic Beetlejuice and the 2014 Best Picture winner Birdman, Keaton discussed the pressure that came with making what was, for all intents and purposes, the first big superhero movie since Richard Donner's Superman: The Movie in 1978. He said:
Michael Keaton is totally right - one big flop could signal the end of a director's career. And considering that Tim Burton had only released Pee-wee's Big Adventure and Beetlejuice by 1989, he had yet to cement his status as a lauded director. There was also a lot of pressure for Keaton to succeed as Batman. We know now the Oscar-nominated actor can genre-hop with ease, but 1989 film critics weren't so sure. Roles like Beetlejuice had caused Hollywood to typecast him in mostly comedic parts, and the Dark Knight is definitely not a humorous role (unless we're talking about the Lego version of Batman in The Lego Batman Movie).
Luckily for the careers of Michael Keaton and Tim Burton, Batman was so well-received that it garnered several award nominations and even won the Oscar for Best Art Direction. The movie would lead to the 1992 sequel, Batman Returns and pave the way for Batman Forever and Batman & Robin, the latter two not being helmed by Burton. It also gave us the gift that is Jack Nicholson as the Joker.
Yet another consequence of the film's success? The rise of the superhero genre as we know it. So the next time you watch a Marvel movie (or almost any superhero movie for that matter), just remember that Keaton and Burton may have made it possible.
Michael Keaton will revisit the role of Batman in the 2022 DC film The Flash, alongside fellow Dark Knight Ben Affleck. And if you'd like to revisit Keaton's Batman work before then, you can stream Batman and Batman Returns on HBO Max. For more exciting updates and heroic news, you can keep up with us here at CinemaBlend.
Your Daily Blend of Entertainment News
Actor, singer, and occasional dancer. Likes: fashion, books, old buildings. Dislikes: cilantro, the NJ Turnpike, sneaker wedges.