Black Widow May Make Poke Fun At Scarlett Johansson's Famous Pose, But It Def Helped Simu Liu Land His MCU Role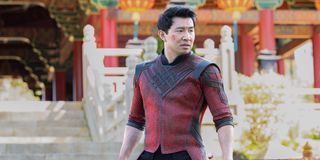 As things are getting closer to back to normal at the box office, Marvel fans are looking to the next addition to the Marvel Cinematic Universe to arrive - and it sounds like there just may be a tiny connection to the recently-released Black Widow. Scarlett Johansson's seemingly last MCU contribution released to both Disney+ and theaters last month, and it hilariously made fun of her famous fighting pose. Ironically enough though, Simu Liu, star of the upcoming Shang-Chi and the Legend of the Ten Rings, apparently landed his Marvel role with a Black Widow pose of his own while auditioning for the part.
The upcoming Shang-Chi will arguably be the one of the most action-packed Marvel films to date, and Simu Liu is certainly up for the job to make it so. In an interview with Slashfilm, director Daniel Cretton said that Liu made quite the impact in his first audition when he took in the spirit of Black Widow by pulling off a backflip that landed into her signature pose, timing the end of his audition perfectly with the homage to Scarlett Johansson's character and staring directly into the camera for dramatic effect. Here it is in the Shang-Chi director's own words:
Simu Liu has a background in martial arts and stunting, and apparently he pairs that with a pretty wicked sense of humor as well. I would honestly kill to see the footage of him backflipping into a hairflip, and now that Black Widow is buried, maybe the head guys over at Marvel will consider giving the signature move to Liu's titular Shang-Chi character.
The bold decision to Black Widow his way into the MCU was a funny one, but it's also pretty coincidental. Simu Liu surely auditioned for Shang-Chi and the Legend of the Ten Rings well before he knew that pose joke was in Black Widow. Even though Black Widow's release had been halted due to the pandemic, there is pretty much no way Liu knew it was going to be a running joke in Scarlett Johansson's film before he even got the part and became a member of the MCU.
Both Simu Liu's potential seer abilities and proven physical ones are pretty impressive here - no wonder he's been pretty outspoken about being able to beat all the other MCU heroes. All trash talk aside, we can expect something pretty special from Liu in the upcoming Shang-Chi and the Legend of the Ten Rings, which is set to "experimentally" drop exclusively to theaters on September 3 ahead of its slightly delayed release to Disney+. If we're lucky, Liu will throw a hair flip pose or two in as a tribute to his fellow, fallen action hero.