Reminiscence: What To Watch If You Like The Hugh Jackman Sci-Fi Noir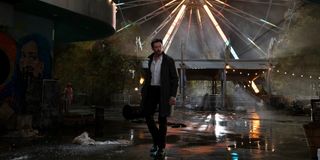 CinemaBlend participates in affiliate programs with various companies. We may earn a commission when you click on or make purchases via links.
Every now and again, a movie comes along that blends elements of sci-fi, noir, action, and romance, creating a remarkable (in terms of visuals and narrative) feature that appeals to all the senses. One of the most recent movies to do that is Reminiscence, Lisa Joy's atmospheric and intricate story about a near-future detective stumbling through memories to find a missing woman who stole his heart and, potentially, something more.
After watching Hugh Jackman search far and wide for Rebecca Ferguson in a world on the brink because of the effects of climate change, you might be looking for movies like Reminiscence that capture the same feeling or have a similar look. Here are a few options and where you can find them on streaming services like Netflix, Amazon, and HBO Max.
Inception (Netflix; HBO Max)
Led by the mysterious Dom Cobb (Leonardo DiCaprio), a group of highly-trained thieves with an unorthodox way of pulling off large-scale heists is hired by a businessman to enter his rival's dreams in order to set in place a plan that will allow him to eat up the competition. An already difficult task becomes nearly impossible when Cobb's past comes back to haunt him.
Why it's worth checking out: Like Reminiscence, Christopher Nolan's Inception follows a protagonist with a myriad of secrets that make him untrustworthy — even if he doesn't know it. The 2010 mind-bending thriller, which happens to be one of the best movies on Netflix, also explores how someone is affected by spending too much time in a dreamworld based on old memories; memories that aren't always built on truth.
Double Indemnity (Amazon Rental)
Insurance salesman Walter Neff (Fred MacMurray) finds himself in the middle of a murder plot when the beautiful femme fatale Phyllis Dietrichson (Barbara Stanwyck) takes out a life insurance policy on her wealthy husband (Tom Powers) and tempts the smitten man to be the one who sets her dangerous plan in motion.
Why it's worth checking out: Billy Wilder's film noir classic Double Indemnity has everything you want from the genre: a strikingly beautiful woman tempting a hopeless romantic man with love and fortune, a sinister murder plot, and an outstanding cast that also includes Edward G. Robinson as Walter Neff's boss and insurance investigator, Barton Keyes, who sets out to get to the bottom of the messy affair. Like Reminiscence, this iconic 1944 film plays on the idea of a how easily a man can lose himself when confronted by a beautiful yet deadly woman.
Rent/Buy Double Indemnity on Amazon.
Eternal Sunshine Of The Spotless Mind (Showtime)
When Joel Barish (Jim Carrey) discovers that his ex-girlfriend Clementine Kruczynski (Kate Winslet) has erased all memories of their relationship he decides to undergo the same procedure. But, as the memories — both good and bad — begin to fade away, Joel fights back in an attempt to preserve any trace of the woman he still loves before it's too late.
Why it's worth checking out: Written by Charlie Kaufman and directed by Michel Gondry, 2004's Eternal Sunshine of the Spotless Mind is a beautiful, transfixing, and mind-bending experience that, like Reminiscence, shows how far someone will go to hold onto a memory no matter how much it may affect their reality.
Stream Eternal Sunshine of the Spotless Mind on Showtime.
Rent/Buy Eternal Sunshine of the Spotless Mind on Amazon.
Blade Runner (Amazon Rental)
Replicant hunter Rick Deckard (Harrison Ford) is given a fairly simple assignment: find and eliminate four rogue cyborgs who have escaped from an off-world colony and returned to Earth. The task, however, becomes complicated when Deckard is introduced to a beautiful replicant named Rachel (Sean Young), who leads the once-solitary detective down a path that will have him questioning everything, even his own existence.
Why it's worth checking out: Like Reminiscence, Ridley Scott's 1982 sci-fi noir drama Blade Runner takes audiences on a beautiful yet daunting journey in a world that is like our own enough to be familiar yet different enough to be almost foreign and unknown. It also features one of Harrison Ford's best characters that just so happens to be one of his most complex as well.
Rent/Buy Blade Runner on Amazon.
The Game (Netflix)
When successful banker Nicholas Van Orton (Michael Douglas) is given a rather unique birthday gift from his estranged brother Conrad (Sean Penn), he enters an intricate and maddening game that tears down the walls between reality and fantasy. This mysterious and potentially deadly game sends the reclusive Van Orton on a journey like nothing he has ever experienced before: life.
Why it's worth checking out: David Fincher's 1997 cerebral drama The Game is at times hard to follow, which puts the audience in the same mindset as Michael Douglas' wealthy yet broken character. By constantly betraying our trust, Fincher's intricate story leaves us not knowing what is real and what is fantasy.
The Fountain (Tubi)
The Fountain features three intertwined narratives told through the eyes of a 16th Century conquistador, a present-day scientist, and a 26th Century astronaut (all played by Hugh Jackman) who all have the same goal: find a way to save the woman they love from death.
Why it's worth checking out: One of the best Hugh Jackman movies, The Fountain is an epic love story that explores just how far someone will go in order to save someone they love. And, like a lot of Darren Aronofsky's movies, this intricate and oftentimes hard-to-follow story is a real gem for those who approach with an open mind and heart.
Rent/Buy The Fountain on Amazon.
Tenet (HBO Max)
A secret agent known simply as The Protagonist (John David Washington) is forced to travel through time, bend the very fabric of nature, and create a new reality to prevent World War III from destroying life as we know it. Armed with a single word — tenet — the mysterious hero embarks on a confusing journey where the beginning is the end and the end is the beginning.
Why it's worth checking out: Christopher Nolan's sci-fi spy thriller Tenet is one of those movies you understand less the more you think about it, but still want to go back and take in its intriguing and enigmatic plot, stunning visuals, and commanding performances by John David Washington, Robert Pattinson, and Elizabeth Debicki.
L.A. Confidential (Tubi)
When a robbery-turned-murder at a coffee shop in 1950s Los Angeles goes unsolved, three dedicated yet complicated policemen set out to bring closure to the case in a variety of different ways. Their investigations into the heinous and mysterious crime leave no stone unturned, but lies under those rocks exposes truths no one wants to know.
Why it's worth checking out: L.A. Confidential has a little bit of everything you want out of a good noir film: crime, intrigue, hard-nosed police officers (Guy Pearce, Kurt Russell, Kevin Spacey), and a beautiful woman (Kim Basinger in an Oscar-winning performance) who could be at the center of the best L.A. detective movie. And like Reminiscence, it's hard, if not impossible, to know who you can and can't trust.
Stream L.A. Confidential on Tubi.
Rent/Buy L.A. Confidential on Amazon.
Dark City (Amazon Rental)
John Murdoch (Rufus Sewell) attempts to unravel a twisted mystery surrounding his alleged role in a series of brutal murders, the biggest problem being that he can't figure out if he's guilty or not. As he digs deeper into the mystery, Murdoch struggles to get a grasp on reality, which is made all the more difficult when he stumbles upon a dark underworld more dangerous than anything he could ever dream.
Why it's worth checking out: Dark City is one of those movies that does a tremendous job of showing someone lose all touch with reality and become their own worst enemy. As much as you want to trust Murdoch and see him clear his name before it's too late, the more you learn about him, you realize a happy ending becomes less likely by the minute.
Westworld (HBO Max)
Set in a future in which the powerful and wealthy can make their fantasies — whatever they may be — become reality with little or no repercussions at a technologically advanced amusement park, Westworld shows what happens when seemingly harmless androids have enough of their abuse and strike back and to regain their dignity.
Why it's worth checking out: This sprawling HBO series, which was co-created by Reminiscence writer/director Lisa Joy and stars Thandiwe Newton, welcomes audiences into a world that is at times strangely familiar, yet at others nothing like anything we've ever seen before, and asks a series of questions about servitude, free-will, and consciousness.
These are just a few of the movies and shows that are perfect for anyone wanting to explore similar themes and the mood of Reminiscence. If you want even more to watch, check out our list of the best movies on Amazon Prime for some great hidden gems.
Philip grew up in Louisiana (not New Orleans) before moving to St. Louis after graduating from Louisiana State University-Shreveport. When he's not writing about movies or television, Philip can be found being chased by his three kids, telling his dogs to stop yelling at the mailman, or yelling about professional wrestling to his wife. If the stars properly align, he will talk about For Love Of The Game being the best baseball movie of all time.
Your Daily Blend of Entertainment News
Thank you for signing up to CinemaBlend. You will receive a verification email shortly.
There was a problem. Please refresh the page and try again.