The Best Hugh Jackman Movies And How To Watch Them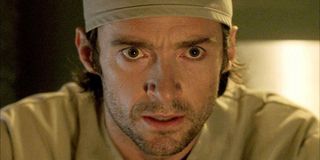 CinemaBlend participates in affiliate programs with various companies. We may earn a commission when you click on or make purchases via links.
Some people know Hugh Jackman from his iconic take on Wolverine in the X-Men movies. Others remember the multi-talented Australian actor for his dramatic work in modern-classics like The Prestige and Prisoners. And then there are those who can't think about the Tony winner for anything besides The Greatest Showman. Whatever the case may be, a large portion of the movie-going population know and love any number of his noteworthy performances from the past 20 or so years. But still, the question remains: What are the best Hugh Jackman movies?
Truth be told, there are a ton of great Hugh Jackman movies; more good than bad, if we're being completely honest here. Some of his biggest achievements on the screen happen to be some of the best movies on Netflix while others are best Amazon Prime movies a monthly subscription can buy. And in case you're wondering what his best movies are, fear not because we've make a quick guide with his best achievements on the big screen (and maybe from the stage).
The Prestige (2006)
One of Christopher Nolan's finest films yet, The Prestige follows two accomplished magicians — Robert Angier (Hugh Jackman) and Alfred Borden (Christian Bale) — who find themselves trapped in a heated rivalry to one-up one another as they attempt to come to terms with a horrible stage accident in their own ways. Blinded by ambition and jealousy, the two former friends stop at nothing to one-up the competition, even if it means sacrificing their loved ones and their own humanity.
Rent/Buy The Prestige on Amazon.
Buy The Prestige on DVD/Blu-ray on Amazon.
Les Misérables (2012)
Tom Hooper's stunning and intimately shot 2012 adaptation of Les Misérables tells the story of Jean Valjean (Hugh Jackman), a prisoner of 19 years who makes a life — and name — for himself after being released from prison. While Valjean tries to forget his past and even becomes a beloved member of his community, the vengeful and despondent Javert (Russel Crowe) will have none of it and will stop at nothing to nab his reformed foe.
Stream Les Misérables on Netflix.
Rent/Buy Les Misérables on Amazon.
Buy Les Misérables on DVD/Blu-ray on Amazon.
Happy Feet (2006)
If you've ever watched the 2006 animated film Happy Feet and thought to yourself: Wow, this is anything but a silly kids movie and really has a bleak outlook on society as a whole like a Mad Max movie, there's a good reason for it. Directed by George Miller, this at-times beautiful and others absolutely gutting tour de force follows the story of Mumble (Elijah Wood), a penguin cast aside by his colony (including his parents who are voiced by Hugh Jackman and Nicole Kidman), because he prefers to dance rather than sing, finding his own way in the process.
Buy Happy Feet on DVD/Blu-ray on Amazon.
Swordfish (2001)
The 2001 techno-thriller Swordfish sees Hugh Jackman take up the role of Stanley Johnson, a recently paroled computer hacker who is given the opportunity to make $10 million if he can create a program that could potentially siphon $9.5 billion from unused government bonds. But nothing is ever quick, easy, or painless, as Stanley finds out through his dealings with the equally dangerous and charismatic Gabriel Shear (John Travolta).
Buy Swordfish on DVD/Blu-ray on Amazon.
The X-Men Movies (2000 - 2016)
There isn't much we can say about the X-Men movies that hasn't been said before. These movies helped usher in a new era of comic book movies, thanks in part to Hugh Jackman's take on Logan/Wolverine.
Buy X-Men on DVD/Blu-ray on Amazon.
Buy X2 on DVD/Blu-ray on Amazon.
Stream X-Men: The Last Stand on Disney+.
Rent/Buy X-Men: The Last Stand on Amazon.
Buy X-Men: The Last Stand on DVD/Blu-ray on Amazon.
Stream X-Men Origins: Wolverine on Disney+.
Rent/Buy X-Men Origins: Wolverine on Amazon.
Buy X-Men Origins: Wolverine on DVD/Blu-Ray on Amazon.
Rent/Buy X-Men: First Class on Amazon.
Buy X-Men: First Class on DVD/Blu-ray on Amazon.
Rent/Buy The Wolverine on Amazon.
Buy The Wolverine on DVD/Blu-ray on Amazon.
Stream X-Men: Days of Future Past on Disney+.
Rent/Buy X-Men: Days of Future Past on Amazon.
Buy X-Men: Days of Future Past on DVD/Blu-ray on Amazon.
Stream X-Men: Apocalypse on Disney+.
Rent/Buy X-Men: Apocalypse on Amazon.
Buy X-Men: Apocalypse on DVD/Blu-ray on Amazon.
Logan (2017)
After two decades and eight movies, Hugh Jackman hung up his boots, err claws, in James Mangold's 2017 comic book masterpiece. A more intimate and emotional X-Men film than those that came before it, Logan picks up with a physically and emotionally broken Wolverine as he attempts to shy away from society with a deteriorating Professor X (Patrick Stewart), a plan that is upended when he is tasked with caring for a young mutant who is more like him than he'd care to admit.
Buy Logan on DVD/Blu-ray on Amazon.
Prisoners (2013)
Denis Villeneuve's 2013 psychological thriller Prisoners follows Keller Dover (Hugh Jackman), a man who goes off the deep end (rightfully so) when his six-year-old daughter and her friend go missing. When an investigation into the prime suspect (Paul Dano) comes up short, the determined father decides to take matters into his own hands, even if it means he won't be the same man by the time he comes out of it.
Buy Prisoners on DVD/Blu-ray on Amazon.
Real Steel (2011)
The 2011 sci-fi sports drama Real Steel follows Charlie Kenton (Hugh Jackman), a former prizefighter who now works as a fight promoter for what are essentially Rock 'Em Sock Em Robots on steroids as he teams up with his young son to achieve the impossible: put together a winning robot fighter and make up for a life of bad decisions and heartache.
Rent/Buy Real Steel on Amazon.
Buy Real Steel on DVD/Blu-ray on Amazon.
The Greatest Showman (2017)
Hugh Jackman portrays the infamous P.T. Barnum in The Greatest Showman, welcoming audiences into the fantastical and extremely complicated life of one of the most notable names in the history of entertainment, no matter the cost.
Stream The Greatest Showman on Disney+.
Rent/Buy The Greatest Showman on Amazon.
Buy The Greatest Showman on DVD/Blu-ray on Amazon.
The Fountain (2006)
Darren Aronofsky's ambitious and confusing tale of a man doing everything in his power to save the woman he loves from dying is just as beautiful — if not more — than it is hard to follow. Over the course of The Fountain's three intertwined narratives, three versions of the same character played by Hugh Jackman — a 16th Century conquistador, a present-day scientist, and a 26th Century astronaut — searches far and wide to preserve his wife, played by Rachel Weisz. If anything, stick around for the amazing score created by Clint Mansell, the Kronos Quartet, and Mogwai.
Rent/Buy The Fountain on Amazon.
Buy The Fountain on DVD/Blu-ray on Amazon.
Scoop (2006)
Woody Allen's 2006 crime comedy Scoop tells the story of American journalism student Sondra Pransky (Scarlett Johansson) as she communicates with the spirit of a deceased journalist (Ian McShane) in her quest to obtain information about London's Tarot Card Reader. But when the pursuit leads the ambitious writer to aristocrat Peter Lyman (Hugh Jackman), everything becomes much more complicated.
Buy Scoop on DVD/Blu-ray on Amazon.
Butter (2011)
The 2011 comedy Butter centers on one of the most heated of all competitions: Iowa's annual butter-carving championship. When Laura Pickler (Jennifer Garner) decides to follow in the footsteps of her retiring husband (Ty Burrell), she is willing to do anything to ensure a victory, even if it means calling in a favor from her ex-boyfriend, Boyd Bolton (Hugh Jackman) to make a mess of things.
Buy Butter on DVD/Blu-ray on Amazon.
Australia (2008)
Set on the eve of World War II, Baz Luhrmann's 2008 epic romantic drama Australia follows the journey of Lady Sarah Ashely (Nicole Kidman) as she travels from Britain to Australia to look over a ranch she has recently inherited. Sarah soon finds herself in the middle of a great adventure alongside a local named Drover (Hugh Jackman) where they drive cattle hundred of miles before their story takes an unexpected turn.
Buy Australia on DVD/Blu-ray on Amazon.
Eddie The Eagle (2016)
The 2016 biographical sports comedy Eddie the Eagle tells the story of Michael "Eddie" Edwards (Taron Egerton) as he travels to Germany to try his luck at competitive sky jumping. Not long after arriving in Germany, Eddie comes across Bronson Peary (Hugh Jackman), a former ski jumper who currently makes ends meet by plowing snow. The pair quickly strike up an unconventional relationship and try to make the impossible a reality at the 1988 Winter Olympics.
Stream Eddie the Eagle on Disney+.
Rent/Buy Eddie the Eagle on Amazon.
Buy Eddie the Eagle on DVD/Blu-ray on Amazon.
Kate And Leopold (2001)
Long before Hugh Jackman and James Mangold got together to tell the definitive Wolverine story, they teamed up for the 2001 romantic comedy Kate and Leopold. But this isn't just your everyday rom-com as this one sees Leopold (Jackman), the Duke of Albany breaking through the fabric of time, ending up in 21st Century New York City where he meets and falls for the ever-independent Kate McKay (Meg Ryan).
Stream Kate and Leopold on Showtime.
Rent/Buy Kate and Leopold on Amazon.
Buy Kate and Leopold on DVD/Blu-ray on Amazon.
Bonus: Oklahoma! (1999)
And then there is the 1999 film adaptation of the hit musical Oklahoma!, which sees Hugh Jackman return as Curly McLain, a role that made him a rising star in the world of theatre just one year prior. Jackman's magical and charismatic portrayal of the classic stage character is truly something to behold, even if you aren't a fan of stage-to-film adaptations.
Stream Oklahoma! on Broadway HD.
Buy Oklahoma! on DVD/Blu-ray on Amazon.
This is just a small portion of all the great things Hugh Jackman has accomplished throughout his career. With more movies featuring Jackman coming up on the 2021 movies schedule, it's safe to say this list will only grow from here.
Your Daily Blend of Entertainment News
Philip grew up in Louisiana (not New Orleans) before moving to St. Louis after graduating from Louisiana State University-Shreveport. When he's not writing about movies or television, Philip can be found being chased by his three kids, telling his dogs to stop barking at the mailman, or yelling about professional wrestling to his wife. If the stars properly align, he will talk about For Love Of The Game being the best baseball movie of all time.