Upcoming Kate Winslet Movies And TV: Avatar 2 And More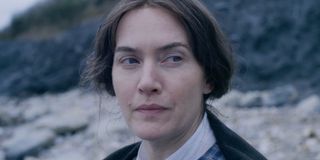 It has been well over 20 years since Kate Winslet last appeared in a movie directed by James Cameron (a small movie by the name of Titanic; you may have heard of it), but in the next few years, we'll see the Academy Awarding-winning actress and the filmmaker team up multiple times, with Avatar 2 and its sequels, which are slated to start being released ahead of Christmas 2022. But, where else will we see the veteran stage, film, and television actress as she continues on with not only one of the most successful careers in recent memory, but also one of the most diverse?
Well, hold on, because Kate Winslet has quite a few projects (both movies and TV shows) not set on the alien planet of Pandora coming up in the next few years. These will see the star of recent titles like the steamy romantic drama Ammonite, and the Disney+ adaptation of Black Beauty, take on roles in an HBO crime thriller, a couple of biographical dramas, and a mysterious animated feature with an ensemble cast that's out of this world.
Avatar 2 - December 16, 2022 (Post-Production)
In case anyone has forgotten about the quartet of Avatar sequels that will be coming out in the next seven years, the franchise is still very much alive. The first of those movies, Avatar 2, is coming out ahead of the 2022 holiday season, and will include the debut of Kate Winslet's Ronal, a Na'vi not featured in the 2009 film that kickstarted it all. While a lot is unknown about the second installment in James Cameron's groundbreaking computer-generated sci-fi series, it appears Winslet's character will not only be a major part of that movie but also its three sequels, which are scheduled to come out every two years after Avatar 2. Winslet's Ronal will be joining up with returning characters Jake Sully (Sam Worthington) and Neytiri (Zoe Saldana), as well as newcomers played by Edie Falco, Michelle Yeoh, and Vin Diesel.
There has been a great deal of buzz surrounding Avatar 2 for years now, even before Kate Winslet started making news for her impressive and death-defying underwater stunts that included her gaining the ability to hold her breath for seven minutes at one point during the shoot. The complicated production on Avatar 2 had been underway for several years and was in the middle of shooting its live-action action sequences when the shoot had to be shut down in early 2020, but was able to start back up again that June.
James Cameron was originally aiming for a 2014 release date for Avatar 2, but that obviously didn't happen, nor did any of the other releases which were delayed eight times over the years. As it stands, the movie is slated to be released in theaters on December 16, 2022, 13 years after the release of the original Avatar.
Avatar 3-5 - December 20, 2024, December 18, 2026, December 22, 2028
Kate Winslet's involvement in the Avatar franchise won't be ending any time soon, as she is slated to continue portraying Ronal in all four of the upcoming sequels. And, since we know little to anything at all about Avatar 2 and exactly how Ronal will fit into the story on Pandora, it should be understood that we know even less about Avatar 3, Avatar 4, and Avatar 5, outside of the fact that some of the biggest players will be returning to see the fifth and final act play out nearly 20 years after James Cameron unleashed the most successful movie of all time (at that time).
James Cameron, Kate Winslet, and the rest of the cast and crew have been working on Avatar 3 for several years now with a lot of the principal photography being completed as far back as 2018, though the project doesn't seem to be actually wrapping anytime soon. And with multiple projects being shot concurrently, even Winslet herself has admitted she's having a hard time keeping track of which movie she's filming at any given time. Despite that, the reality of Avatar 3 (and its two sequels) is becoming more and more clear as the months go on, and hopefully there are no further delays in production and we get to finally see Avatar 3-5 on December 20, 2024, December 18, 2026, and December 22, 2028, respectively.
Mare Of Easttown (Limited Series) - TBD (In Production)
The last time Kate Winslet appeared in an HBO-produced limited series (2011's Mildred Pierce), she won a Golden Globe, a Primetime Emmy, and several other notable awards for her portrayal of the overprotective and self-sacrificing titular character. It looks like Winslet will try to catch lightening in a bottle twice when she appears in the upcoming crime drama limited series Mare of Easttown, in which she will play Mare Sheetan, a detective in a small town in Pennsylvania tasked with getting to the bottom of a mysterious and troubling murder. Judging by the track record of show creator Brad Ingelsby (Out of the Furnace, The Way Back) and series director Gavin O'Connor (Warrior, The Accountant), Mare of Easttown looks like it will pack quite the punch (both physically and emotionally).
Production on Mare of Easttown began back in the fall of 2019 and was originally supposed to wrap up at some point in April 2020 but shooting on sets in and around Philadelphia were shut down a few weeks before things wrapped up, according to KYW News Radio. At one point before production shut down, however, Kate Winslet was able to help one of her young co-stars feel more comfortable in one of the show's intimate scenes. Filming was able to resume on the HBO limited series in the fall of 2020, per the Philadelphia Inquirer. It remains unclear exactly when the show will hit the air (and HBO Max), but we'll be on the lookout for more information in the coming weeks and months.
Lee - TBD (Pre-Production)
The real-life story of Lee Miller, the fashion model who transitioned over to the fine art photography before yet again switching over to photojournalism upon becoming a war correspondent in World War II is one of the 20th Century's most inspirational and harrowing tales. From the fashion houses of New York City to the liberation of Paris and documentation of various concentration camps, Miller saw it all over the course of her career. Miller's time as a war photographer will soon be the subject of a motion picture under the title Lee, which will feature Kate Winslet's portrayal of the iconic figure under the direction of Ellen Kuras (Ozark, Catch 22, Eternal Sunshine of the Spotless Mind).
The project was first announced in June 2020, with Variety reporting that Lee will follow Kate Winslet's version of Lee Miller as she travels to the frontlines of the Second World War on a mission to expose the secrets and hidden truths of Adolph Hitler's Third Reich. On the journey, however, Miller begins to pick at pieces of her past. There is no word on when the movie is set to come out or who will be joining Winslet in the cast, but principal photography is expected to get underway at some point in 2021.
Fake! - TBD (Pre-Production)
Kate Winslet will take on a role in another biopic of sorts when she portrays Jen McAdam, one of the many victims of the OneCoin Ponzi scheme in Contagion writer Scott Z. Burns' upcoming project called Fake!. According to Deadline, Winslet will be playing McAdam, who wrote the book of the same name on which the movie is based, after she and her friends and family are scammed out of $300,000 after making a bad investment in the form of cryptocurrency promoted by the Bulgaria-based offshore company. The story will follow Winslet's McAdam as she forms a support group for other victims of the scheme that eventually brought the company down and led to numerous arrests. There is no word on when Fake! will enter production or when we can expect to see it.
Naya: Legend Of The Golden Dolphin - TBD (?)
And then there is that mysterious project mentioned at the beginning of this article. There is a movie by the name of Naya: Legend of the Golden Dolphin that has one hell of a cast — Kate Winslet, Gerard Butler, Quvenzhané Wallis, Elliot Page, Owen Wilson, and more — that has very little information available outside of mentions on the casts' respective IMDb pages and the movie's official website. Directed by Jonathon Kay, who produced a 2011 documentary with a very similar name (Na Nai'a: Legend of the Dolphin), the movie follows Naya (Wallis), a golden dolphin princess sent on a mission to unite all the dolphins to save the oceans. There isn't a whole lot of information about when the movie was filmed or when it will be coming out, but the Naya: Legend of the Gold Dolphin website does have a 2015 copyright.
Well, it looks like we'll certainly be seeing a lot of Kate Winslet in the years to come (but that's not a bad thing at all). And, who knows, at some point in the future we might even be talking about Fake! or Lee whenever we're discussing the likes of Revolutionary Road, Eternal Sunshine of the Spotless Mind, or even Contagion, even though my heart sinks whenever she lets out that first cough in Steven Soderbrergh's 2011 pandemic thriller.
Your Daily Blend of Entertainment News
Philip grew up in Louisiana (not New Orleans) before moving to St. Louis after graduating from Louisiana State University-Shreveport. When he's not writing about movies or television, Philip can be found being chased by his three kids, telling his dogs to stop barking at the mailman, or yelling about professional wrestling to his wife. If the stars properly align, he will talk about For Love Of The Game being the best baseball movie of all time.