Kaley Cuoco Has Wrapped Her New Movie Meet Cute, See How She Celebrated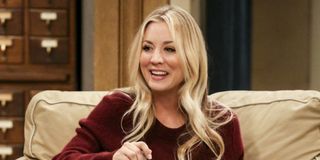 Are you surprised to see Kaley Cuoco in yet another headline and production? You shouldn't be, because since the wildly successful Big Bang Theory actress has been absolutely killing it in Hollywood. While Cuoco has had a heavy hand in a number of successful projects, she has shifted her focus, at least for the moment, to announce the completion of her new movie Meet Cute. Interestingly enough, she stars opposite SNL's Pete Davidson in the upcoming rom-com - check out how the two stars celebrated together!
While they are definitely an interesting pair to think about, Kaley Cuoco and Pete Davidson look absolutely adorable together in the photo Cuoco shared to her Instagram, announcing the end of filming for Meet Cute. You can check out the post below, where Cuoco praised both the film and the people who made the film possible:
The photo that pairs nicely with the adoring caption shows Kaley Cuoco and Pete Davidson, although you'd never guess it was them by just looking at them huddled close together in front of the beautiful cityscape of New York. The photo, while pretty much the perfect picture of serenity, gives fans that feeling of a finality that is the end of shooting. It kind of seems like the final moment for the actors in the headspace of the characters they portray in the film.
Fans seemed to think along those lines, anyway, down in the comment section of Kaley Cuoco's post. Some commenters said how nostalgic the photo is making them feel for famous scenes of other iconic, distant past rom-coms, like Woody Allen and Diane Keaton's Manhattan - another seemingly odd pair to star in a rom-com together.
Another commenter recognized the finality of the post by asking Kaley Cuoco if she is now heading back to her own life, surrounded by her family and pets. Most fans, though, just seemed thrilled about the work Cuoco is putting out and are excited for more to be released.
Kaley Cuoco has been a busy lady, even starting her own production company that has released and is working on a number of hot TV series, most of which she also stars in. The Flight Attendant has even won a few awards, been nominated for even more and is heading to its second season on HBO Max.
Meet Cute doesn't fall under the scope of Kaley Cuoco's own production company Yes, Norman Productions, but that doesn't mean it's not going to be a hit as well - especially if her fans have anything to say about it. There are still a lot of questions about the film, like when it will be released and how to watch it, but hopefully the Cuoco/Davidson mashup won't keep us waiting too long, especially since filming is completed.