Composer Hans Zimmer Talks 'Dune,' 'Man of Steel' & More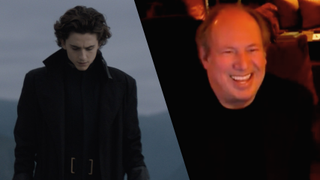 (Image credit: Warner Bros. )
Composer Hans Zimmer joins ReelBlend to chat Dune! We cover topics from across his career including The Lion King, Man of Steel, Interstellar, and more. He talks about breaking the news to Christopher Nolan that he wouldn't be joining him on Tenet, what it's like to show a director his music for the first time, and even a few times that didn't go so well.
Gabe studied Film & Photography at Webster University. He currently spends his free time looking like a fool trying to play Ice Hockey (a recently acquired hobby), playing video games, and watching every movie starring Dwayne "The Rock" Johnson. Dwayne, if you're reading this...he sends his love.
Your Daily Blend of Entertainment News
Thank you for signing up to CinemaBlend. You will receive a verification email shortly.
There was a problem. Please refresh the page and try again.