Why Harry Potter Fans Need To See Cursed Child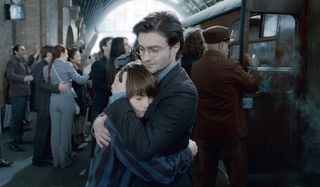 When it was announced that the eighth story in the Harry Potter series would be coming to the stage, my first reaction was a mixture of excitement and panic. Excitement because, well, more Harry Potter! Panic because I knew I'd need to see it. Of course, it wouldn't be as simple as pre-ordering a book or movie tickets. Harry Potter and the Cursed Child is a play, showing exclusively in London's West End. Seeing it will cost quite a bit more than a movie ticket or the cost of a book.
The stars aligned for me on this endeavor. I got up in the wee hours of the morning last October to join the digital queue for tickets, wishing beyond anything that I had a bottle of felix felicis to mix into my coffee and increase my chances for good luck. But luck was on my side anyway, as I managed to get tickets for decent seats on a Saturday in June, just a couple of weeks after public screenings would begin. After that, I just had to figure out travel plans, and talk my sister (my Harry Potter partner in fanaticism) into abandoning her family for a couple of days to join me for what was sure to be a truly epic Harry Potter adventure.
And then I joined the rest of the fans to wait for months. I admit, I had some mild anxiety when the previews began, afraid that the internet would become flooded with spoilers, and I wouldn't get to experience Cursed Child the way I experienced the books - without any knowledge of what was coming. But from what I've seen, fans have been respectful of J.K. Rowling's #KeepTheSecrets campaign. Oh, there are spoilers out there, but from what I've seen so far, you have to go looking for them. Hopefully that remains the case. And I assure you, I will offer up no plot details here.
For now, I want to share my reaction to Harry Potter and the Cursed Child, as a Harry Potter fanatic, and as someone who spent her own money and vacation time traveling to London to see this play, hoping it would be worth it. The TL;DR answer to that is that it was. And while the script will be published as a book, giving fans across the world the opportunity to enjoy the story, Cursed Child is so much more than just dialogue. It's a true Harry Potter experience, and one that's meant to be shared with fans.
Once again, there are NO major plot or character spoilers ahead. Here are the main reasons why Harry Potter fans need to experience Harry Potter and the Cursed Child live..
Rowling's characters have come to life all over again
I'm not going to lie, it's an adjustment to see completely different actors playing Harry, Ron, Hermione, Ginny, Draco and other characters. In fact, it's a bit jarring at first. But as a fan first and foremost of the books, I'll admit, not all of the actors in the Harry Potter movies fit my imagination's version of their character. So I was a bit prepared to recondition my brain to accept these new (and adult) versions of the characters. With that said, the actors deliver wonderful versions of these beloved characters. Noma Dumezweni's Hermione may not be Emma Watson's Hermione, but she is still undoubtedly Hermione Granger. The spirit of the character comes through in her performance, as is the case for Jamie Parker's portrayal of Harry.
What's more, it's a thrill to see the matured versions of J.K. Rowling characters. In the 19-years-later setting of Harry Potter and the Cursed Child, we get to see what Harry, Ron and Hermione are like in their adult years, grown and more experienced than they were in adolescence. Paul Thornley's Ron, for example, is not merely an older reflection of Ron from the books, he also seems to channel a bit of Arthur Weasley's lovableness in his adult years, which feels like a true and natural progression of the character. Similar could be said of Poppy Miller's Ginny. She is undoubtedly Ginny, but she's also got a bit of Molly in her. This is as much a credit to the actors' performances as it is the direction and the writing. And it's something that comes through so well on the stage, making Cursed Child feel like a reunion as much as it is a sequel.
The special effects bring magic to the stage.
With the Harry Potter books, J.K. Rowling paints a rich and magical picture in our minds that the movies did their best to recreate. With Harry Potter and the Cursed Child, we go in fresh, with few pre-conceived expectations of the story, or what we're about to see. Still, we know what certain spells should look like, and how they're supposed to work. So, as you might expect, it would take some serious creativity to make them happen on stage, in front of a live audience. Well, Harry Potter and the Cursed Child just so happens to get really creative. It does things with its sets, the lighting, costumes and even its actors that will make you believe that magic is not only real, but taking place right there on the stage in front of you. No CGI necessary. There were literally moments where I did a double-take, and other times when I watched closely through my binoculars, desperate to see exactly how they were making certain effects possible.
It's one thing to see magic on a movie screen, or on your television. It's another to witness it in front of you as a story is playing out before your eyes. One would expect a West End production to deliver top notch special effects. In that respect, Harry Potter and the Cursed Child's magic does not disappoint. While the magic doesn't steal the show, it certainly enhances the experience.
Musical moments that will give you chills.
Harry Potter and the Cursed Child is not a musical in the traditional sense. No one breaks into song at any point in the show. But there are moments when the choreography and Imogen Heap's score take center stage, setting and re-setting the shifting tone of the play. These audio and visual elements really build up suspense, tension and excitement throughout the show. This is especially true at the start of Part 1, and again at the start of Part 2, when the music succeeds in drawing your mind away from the theater and into the story.
Admittedly, I have a tendency to tear up when I get really emotional while watching something, especially when music is involved. It's a credit to Imogen Heap's score that I felt myself welling up through some of the more musical moments. That feeling that comes when sight and sound sync perfectly is reason enough to see Harry Potter and the Cursed Child, and it's one of the main reasons I'm already itching to see it again.
Cursed Child is a whole different kind of Harry Potter experience.
Harry Potter and the Cursed Child may be the eighth story in the Harry Potter series, and anticipating the play may be on par with anticipating the release of another book. But seeing the production live is an entirely knew kind of Harry Potter experience, and one fans shouldn't miss out on. Some of you may have already dug around the internet in search of spoilers and reveals, of which Cursed Child has numerous. And those who aren't going to see the play will be able to read the script book, which will lay out the story's dialogue and allow fans to follow the events in print.
But there really is more to Cursed Child than dialogue.
While I expected to ingest and digest every morsel of newly created Harry Potter canon delivered in Cursed Child, what I didn't anticipate was what it would be like to experience the story in a theater full of people. It's the equivalent of reading the latest book with other fans, from start to finish. You're laughing and gasping at a lot of the same moments. You're sharing that rush of excitement when the crowd reacts audibly to something that happens. You're openly crying amidst other sniffling viewers during one very specific, very emotional scene. This is why we go to the theater. This is the reason we leave the comfort of our own homes (and in my case, my own country) to see a live performance.
Harry Potter and the Cursed Child is undoubtedly made for fans of J.K. Rowling's series, and in that respect, getting to enjoy the play surrounded by fans is a wonderful and memorable experience, which -- for me -- tops those magical midnight book releases. Harry Potter fans have shared their love and enthusiasm for this series book after book, and then some. Cursed Child is bringing us back together, while also offering us even more to love about the series.
Obviously, going to the theater isn't cheap, nor is traveling to London, assuming you're not already there. I made a mini-vacation out of it in order to justify the cost and time. If you can't do that, you have the script book to look forward to. Still, if you're on the fence about seeing the play, if you're a mega-Potter fan, I think it's worth it to try to make it happen. And if you're already planning a trip, be excited. Cursed Child is entertaining and incredibly satisfying for those of us who love this universe and want more of it.
If you haven't been able to get tickets just yet,you can always try to get lucky with the Friday Forty ticket lottery. That's a good way to get tickets soon and affordably, if you're lucky enough to be randomly selected. Otherwise, there's always the official site, which offers booking links, though the wait is likely to be a lot longer.
Your Daily Blend of Entertainment News
Assistant Managing Editor
Kelly joined CinemaBlend as a freelance TV news writer in 2006 and went on to serve as the site's TV Editor before moving over to other roles on the site. At present, she's an Assistant Managing Editor who spends much of her time brainstorming and editing feature content on the site.