Alexis Arquette Cause Of Death May Have Been Revealed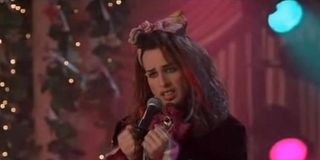 (Image credit: Blended)
Actor and singer Alexis Arquette died on Sunday at the age of 47. In her late 30s, Arquette transitioned from male to female, and continued to be a dedicated advocate for the LGBT community. Though Arquette's cause of death has not been officially confirmed, a source close to the Arquette family has said that she died as a result of AIDS-related complications, PEOPLE reports.
According to PEOPLE's source:
The source goes on to say that the family had rallied around her, but it sounds like they knew it was a matter of time before her health would fail.
If Alexis Arquette really did die from complications resulting from AIDS, it would come as a surprise to much of the public, as the actress had never revealed an AIDS diagnosis to the world. As PEOPLE's source has said, the Arquette family had reportedly known that Alexis was diagnosed for years before her death on Sunday.
Following her death, Alexis Arquette's siblings posted a touching note, written by Patricia Arquette, that states their admiration for their sibling for persevering as a trans woman in the public eye, and reveals that they held her and sang "Starman" by David Bowie as she passed away. You can read the full note below...
And here's a tribute from brother David Arquette below.
Alexis Arquette had a prestigious career as an actor. As Robert Arquette, before her transition in 2007, she appeared in iconic films like The Wedding Singer, She's All That, and Pulp Fiction, and snagged roles on major television shows like Roseanne, Friends, and Felicity. Arquette documented her transition from male to female in the film Alexis Arquette: She's My Brother, which premiered at Tribeca Film Festival in 2007.
After her transition, Alexis Arquette continued to work, but less often. In the Facebook post, Patricia Arquette wrote of her sister:
She showed up in a few small films in her years living as a woman before her final major role came in the 2014 Adam Sandler comedy Blended, in which she played the Boy George impersonator Georgina (a nod to her role in The Wedding Singer).
Boy George himself paid his respects to Alexis Arquette after her passing, sweetly calling her his sister, and Roseanne Barr shared a throwback photo of Arquette from when she appeared on the comedian's talk show.
And here's what Roseanne Barr tweeted...
Your Daily Blend of Entertainment News
Your Daily Blend of Entertainment News
Thank you for signing up to CinemaBlend. You will receive a verification email shortly.
There was a problem. Please refresh the page and try again.