Watch Gigi Hadid Fight Off A Guy Who Grabbed Her On The Street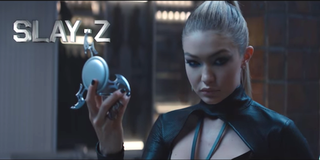 Being a world famous model isn't always pretty --- take it from Gigi Hadid, who had to fight off a strange assailant after a fashion show on Thursday. After leaving the Max Mara show in Milan with her sister Bella Hadid, a man ran up behind Hadid, wrapped his arms around her, and lifted her off the ground. Thankfully, Hadid, who is a trained boxer, was able to elbow the man in the face, and push him away from her to free herself from him.
The incident was captured on video, which you can see for yourself below.
Following the episode, Gigi Hadid said that she thanked her boxing coach. The young model has been vocal about her commitment to boxing for a while now, and she and various media outlets, such as Cosmopolitan and Vogue, have credited the arduous workout with being a large part of how she sculpts her runway-ready body. Of course, it's also amazing self-defense training, as Hadid proved yesterday.
After thanking her coach, Gigi Hadid went on to encourage all girls to learn self-defense skills, crediting her muscle memory with fighting off her assailant.
Shortly after news of the fiasco went wide, the man who grabbed Gigi Hadid stepped forward and revealed himself to The Hollywood Reporter as constant celebrity menace Vitalii Sediuk. The perennial red carpet nuisance has been banned from the United States after slapping Brad Pitt at the premiere of Maleficent. In the past, Sediuk has also lifted America Ferrara's dress at Cannes and attempted to kiss Will Smith at the premiere of Men In Black III.
Now an aspiring model who lives in Europe, Vitalii Sediuk told THR that the assault was motivated by his belief that Gigi Hadid has no place in the fashion industry. He goes on to refer to Hadid and Kendall Jenner as "well-connected cute girls from Instagram," and accuses Vogue editor-in-chief Anna Wintour of turning the illustrious fashion magazine into a tabloid.
Sorry, dude, but I don't really see how grabbing a 21-year-old girl on the street is making a case against the current structure of the fashion industry. Maybe just write a think-piece next time?
Your Daily Blend of Entertainment News
Your Daily Blend of Entertainment News
Thank you for signing up to CinemaBlend. You will receive a verification email shortly.
There was a problem. Please refresh the page and try again.