10 Brilliant Women We Want To See Play Captain Marvel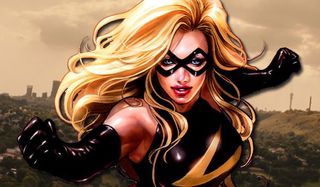 In case if you missed it, Marvel spent the morning dropping bombs about everything its doing through 2020. Apparently we're getting Civil War. We're getting Black Panther. We're getting more Guardians Of The Galaxy. It's a pretty great time to be a comic book fan and to be Chadwick Boseman, who was cast as Black Panther this morning.
As much as we learned about Marvel this morning, however, we're still missing one extremely key detail. Who is going to play Captain Marvel? With Boseman in place, joining the previously announced Benedict Cumberbatch as Doctor Strange, we need a strong, charismatic woman who can compete.
Here are Cinema Blend's choices for Carol Danvers…
Katee Sackhoff
The favorite for what seems like a majority of fans, Katee Sackhoff has been linked to the role on several occasions, but nothing has ever come of it. Depressingly, many of those rumors came so long ago that one would think if she was going to be signed, it would have happened and been announced today. Still, with plenty of badass experience (Battlestar Galactica and Longmire), she's someone who could bring plenty of confidence and swagger to the part.
Genesis Rodriguez
With some action work already underneath her belt in The Last Stand, as well as some Marvel/Disney connections as the voice of Honey Lemon in the new film Big Hero 6, Genesis Rodriguez makes for a great candidate. Her schedule should be open as soon as she's done making Yoga Hosers for Kevin Smith, providing she's not cast in the third and final entry in the True North Trilogy, Moose Jaws. No offense to Kevin Smith, but I think most people would pick Carol Danvers.
Emily Blunt
Emily Blunt was almost a Marvel Studios player back when Iron Man 2 was in production. Unfortunately a contractual obligation forced her to pass on the role and star in Gulliver's Travels for 20th Century Fox. However, it's that blessing in disguise that allowed Blunt to eventually star in Edge Of Tomorrow, which has us more than convinced that she's ready for a comic movie of her own.
America Fererra
Another wildcard pick of ours, America Ferrera hasn't really had a lot of opportunity to flex her action movie muscles. That said, she's a Disney mainstay from her Ugly Betty days, and she's done a good job voicing a badass as Astrid in the How To Train Your Dragon series. It doesn't seem that far off to give her a real costume, and to put her into the game for real. She's lost weight. She's looking good, and in the right situation, she could kick some ass.
Gina Torres
A graduate of the Joss Whedon Academy of Bad Ass Women, Gina Torres is a prime choice to play Captain Marvel. Seeing as how Whedon loves to promote from within, it would be a surprise if she wasn't already being courted in some unofficial capacity. Her days on Firefly prove that she can kick ass, while at the same time convey heart and warmth whilst reloading. And whether Whedon is still involved with Marvel down the road or not, one would imagine he would still be rooting for the same team.
Zoe Bell
One of Quentin Tarantino's favorite stunt/leading ladies as of late, Zoe Bell is more than comfortable with the stunts that a Captain Marvel would require. Better still, she'd be able to do all of her own practical stunts without needing a double, which means the writers can really go wild with what they plan in telling Carol Danvers' story. Maybe we can even get QT involved in writing/directing this puppy at that rate!
Gina Carano
Gina Carano's action pedigree is solid, with her appearances in the Fast And Furious franchise, as well as her UFC background both coming in handy. This film will be more of a test to her dramatic mettle, but if she can make an action movie with Steven Soderbergh, there should be very little adjustments to be made when working with whoever Marvel is able to land for this.
Mary Elizabeth Winstead
Another geek favorite pick is Ramona Flowers herself, Mary Elizabeth Winstead. She's tackled both action and comic reading material in Scott Pilgrim vs. The World, so Winstead obviously has no problem with bringing a creation of ink and paint into three dimensional life. And if she ever needs a letter of recommendation, she could turn to former Live Free Or Die Hard co-star Bruce Willis for help.
Adrianne Palecki
Now here's an oddball theory. Considering Adrianne Palecki is the new Mockingbird on Marvel's Agents Of S.H.I.E.L.D., this sounds crazy, right? But considering the fact that they're already breaking from the comic origins by not (as of yet) having her end up with Hawkeye, why not use this opportunity to shake things up a little more and turn Bobbi Morse into a full blown super?
Tricia Helfer
Another former Battlestar Galactica co-star ready for a big screen burst of glory is Tricia Helfer. While she was sinister as Six on Battlestar, she can also win one for the good guys, much like she did on ABC's Killer Women. Though if Disney needs another reason to re-hire Helfer, they should consider the fact that she was the voice of The Grid itself in Tron: Uprising. Helfer knows what it's like to have all of that power, and she handles it well.
Your Daily Blend of Entertainment News
Senior Movies Contributor
CinemaBlend's James Bond (expert). Also versed in Large Scale Aggressors, time travel, and Guillermo del Toro. He fights for The User.
Your Daily Blend of Entertainment News
Thank you for signing up to CinemaBlend. You will receive a verification email shortly.
There was a problem. Please refresh the page and try again.