See David Beckham Pose Near His Own Wax Statue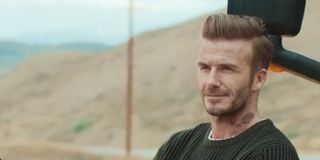 Do not adjust your screens; you are not seeing double. David Beckham indulged in a bit of his silly side over the weekend by snapping a selfie with the wax figure versions of himself and wife Victoria Beckham at Madame Tussauds in London.
To caption the picture, David Beckham noticed the difference in his current appearance from that of his wax sculpture. Namely, the fact that he's got a beard and mustache going on, whereas the sculpture is clean-shaven.
The David Beckham and Victoria Beckham wax sculptures were first installed in 2004, and then were updated to better match the couple in 2014. As the caption suggests, David attended the wax sculpture museum with his kids, whom he's been spending a lot of quality time with recently while his wife Victoria is performing humanitarian work with the UN Aids Global Mission in Kenya. Victoria brought their eldest son Brooklyn Beckham along with her.
David Beckham started dating Victoria Beckham (then Adams) almost 20 years ago in 1997. At the time, both of the stars were at the very top of their respective fields: David had established himself as the rising star of Manchester United, and Victoria's girl group the Spice Girls had just broken through to international superstardom. When the public found out the the two were dating, it created it media whirlwind that would continue to circle around their relationship for years to come. As it was the era of the celebrity supercouple name, tabloids dubbed the pairing "Posh and Becks," referencing Victoria's Spice Girls persona of Posh Spice.
David Beckham and Victoria Beckham married in 1999 in a buzzed-about ceremony in Ireland, and despite continual tabloid coverage, they've managed to stay together ever since. Though David has only recently retired from soccer, Victoria has distanced herself from her former singing career. After the Spice Girls disbanded in 2000, Beckham shifted her focus from music to fashion, by becoming a runway model and also launching her own clothing lines.
Although Victoria Beckham did rejoin the Spice Girls for their 2007 reunion tour, she has opted to not return to the stage for the most recent reunion effort. Earlier this year, former Spice Girls members Mel B, Emma Bunton, and Gerri Halliwell attempted to reform the girl group. With both Beckham and Mel C uninterested, the three women have dubbed themselves GEM, as a play on their initials.
David Beckham and Victoria Beckham have four children together: Brooklyn Beckham (17), Romeo Beckham (14), Cruz Beckham (11), and Harper Beckham (5). Brooklyn Beckham has become a tabloid fixture of his own due to his two-year relationship with actress Chloe Grace Moretz, which came to an end last month.
Your Daily Blend of Entertainment News