Megan Fox And Brian Austin Green's Kids Are Unsurprisingly Adorable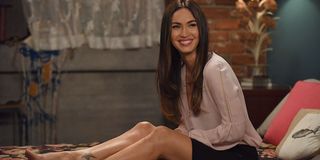 Megan Fox is showing off her newborn son in a gorgeous selfie on her Instagram. At just nearly three months old, Journey River Green already has the selfie game on lock with his big, beautiful eyes. Of course, lying next to his stunning mother also helps the picture out as well. Take a look at the shot below.
Journey River Green is Megan Fox and Brian Austin Green's third son together, following four-year-old Noah Shannon Green and two-year-old Bodhi Ransom Green. Fox is also stepmother to Green's 14-year-old son from a pervious marriage, Kassius Green. The announcement of Fox's pregnancy with Journey at the beginning of 2016 came as somewhat of a shock to fans and the media, as she had filed for divorce from Green just a few months prior. The couple had actually decided to not go through with the divorce, and remain married to this day. Fox gave birth to Journey about three months back on August 4.
And though Journey is definitely a blessing, it's not easy taking care of a family of three young boys. A source close to Brian Austin Green told PEOPLE that the couple seems very happy, although Megan Fox is (understandably) pretty tired.
Megan Fox and Brian Austin Green have been together for 12 years. Though there have been reports of them separating several times throughout the years, the two actors have managed to stand the test of time together. They first started a relationship when Green guest starred on Fox's sitcom Hope & Faith in 2004, which raised a few eyebrows given their age difference (Fox was 18 and Green was 30). Two years later, they announced their engagement, but didn't get married until 2010. Immediately prior to their wedding in Hawaii, it had been reported that the two had been separated for a year, but Fox later stated that they were continuously engaged since 2006.
Now, the couple's main concern is their children, although they also have to balance their acting careers as well. Brian Austin Green hasn't been up to much since his series Anger Management ended in 2014, but he's currently working on the sequel to his 2011 fantasy action flick Cross. Megan Fox, on the other hand, has taken major roles on the big and small screen this year, starring as April O'Neil in Teenage Mutant Ninja Turtles: Out of the Shadows and taking a recurring stint on New Girl. She also stars in the upcoming James Franco and Seth Rogen comedy Zeroville.
It may be tough to come home and have to take care of three young boys after working all day, but it can't be all that bad with these adorable faces!