So, Are Taylor Swift And Drake Dating, Or Not?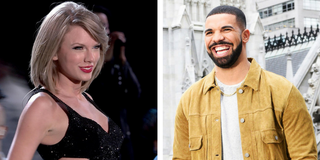 (Image credit: "New Romantics" video, Saturday Night Live)
The biggest celebrity couple rumor of the moment is a wild one! Rumors are swirling that Taylor Swift and Drake are actually an item, after they were seen getting close at the rapper's birthday party nearly two weeks ago, and some social media posts since seem to be playing into the chatter. But how much can we believe about this supposed relationship? Let's break it down.
Though both Taylor Swift and Drake are known for their habit of dating other A-list celebrities, sources at TMZ are saying that the two of them are simply friends and nothing more. While Drake did reportedly take the time to introduce Swift to his close friends and even his mother at his 30th birthday party two Sundays back, he did so simply because Swift isn't often at Drake's parties and he wanted her to feel comfortable. And who knows, maybe the fact that Swift was also trying to avoid Katy Perry and ex John Mayer the whole night played into her looking a bit uncomfortable at the party.
Another reason that makes it hard to know what's really going on with this relationship is the fact that both Drake and Taylor Swift love to troll the media and the public when it comes to their love lives. More talk of a possibly Drizzy-Swizzy romance sprung up on Friday morning when Drake posted a photo of him and Swift together. But upon closer inspection into the outfits, that photo is actually from the birthday party two weeks ago, and not a new snapshot.
Taylor Swift also loves to mess with the media when it comes to her love life. When the singer began dating actor Tom Hiddleston over the summer, several commenters called it out as a publicity stunt for some new music video, album, or other concept. The couple wound up breaking up when summer ended, though no songs have yet emerged from it.
For his part, Drake has never really given the public a clear picture as to the relationship he has with Rihanna. Rumors that the two singers are dating have been circulating for over five years now, and fans are more confused than ever. He also dated tennis superstar Serena Williams for a few years before splitting up in 2015, but even though that relationship was a bit more public, much of it was still left up to public speculation.
So what conclusion can we draw from this: Are Drake and Taylor Swift actually dating? Most likely not. But don't expect them to milking the romance rumors so that they can laugh at the headlines.
Your Daily Blend of Entertainment News