Watch Selena Gomez's Brave And Emotional AMA Speech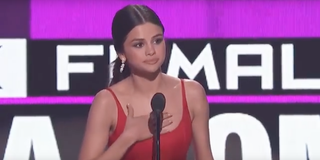 (Image credit: YouTube)
Selena Gomez is completely sick of the superficiality of fame and social media. The singer got refreshingly honest about the brokenness she's felt in her own life in past years, and offered up some word of encouragement for her fans who feel similar pain in an emotional acceptance speech at the American Music Awards on Sunday night. Watch Selena Gomez deliver her full speech below.
After she was announced the Best Female Pop/Rock Artist at the 2016 ceremony, Selena Gomez thanked her fans and then began an impassioned, heartfelt speech about how she has felt broken on the inside for the past few years but forced herself to keep up appearances of happiness for her fans. The singer began by revealing that she first showed the public her authentic self two years ago on that very stage, when she delivered a tearful performance of her song "The Heart Wants What It Wants" --- a ballad mourning her past high-profile relationship with Justin Bieber. Gomez went on to criticize the value that social media and celebrity culture places on outer beauty, and instead encouraged her fans to not seek out that kind of validation.
The empowering speech comes about three months after Selena Gomez announced that she would be stepping away from the spotlight to focus on her personal life. The singer told PEOPLE that her battle with lupus has presented unforeseen side effects, specifically anxiety, panic attacks, and depression. To better take care of her mental health, Gomez decided to clear her calendar for a year and stay away from the pressures of fame.
From her beautiful speech, it's clear that Selena Gomez is more than ready to fight for authenticity and inner beauty.
Your Daily Blend of Entertainment News