A Woman Opened A Plane Emergency Door And Jumped Out While It Was Moving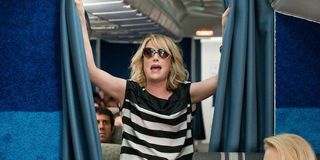 (Image credit: Bridesmaids)
One of the worst parts about any flight is how long you have to wait to actually get off the airplane after it's landed. It can definitely get aggravating to know that you're safely on the ground but still can't get up from your seat as the plane lurches toward its terminal for 20 minutes or so, and then you have to wait even longer for the doors to open and for everyone sitting in front of you to carefully lower their bags from the overhead compartment and shuffle out of the narrow aisle. That long wait may be frustrating, but we've all got to go through it, right? Well, not one woman, who took the deboarding process into her own hands.
A passenger on a United Airlines flight on Monday opened the emergency door on the plane and jumped off the vehicle as it was still taxiing the runway, CNN reports. The plane was preparing to reach its terminal at Houston's George Bush Intercontinental Airport after a flight from New Orleans when the woman made her daring escape. A passenger sitting across the aisle from her uploaded a short video of the opened escape door, which you can see below.
You may assume that it's no big deal to get off an airplane that's just leisurely roaming around on the ground, but they actually move faster than you think, and not to mention they're massive, so that fall from the emergency door to the ground is a steep drop. Thankfully, the unidentified woman was not seriously injured in the process, but she has reportedly been treated for minor injuries.
There's no word on why the woman jumped out the airplane early instead of waiting for the vehicle to properly dock at its gate. Maybe she had to pee so badly that she forgot there's a bathroom on the plane, or maybe since her phone finally had service after the flight, she just saw a text about some big emergency. Whatever caused her to take that jump, let's just be glad she did it while the plane was on the ground, otherwise we might have had a situation like this on our hands:
Your Daily Blend of Entertainment News
Your Daily Blend of Entertainment News
Thank you for signing up to CinemaBlend. You will receive a verification email shortly.
There was a problem. Please refresh the page and try again.