Harry Potter And The Cursed Child Is Coming To The United States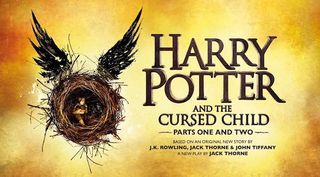 Just when you thought it might be impossible to score tickets to Harry Potter and the Cursed Child and work out a way to get to London to see it, the acclaimed West End play has announced that it's headed to the United States. Talks are in the works for the play to make its U.S. debut in 2018.
The news was announced today on J.K. Rowling's official Harry Potter website, Pottermore, that Harry Potter and the Cursed Child is in talks to come to Broadway. The play's intended hop across the pond is slated for Spring 2018. The Lyric Theatre -- once home to Spider-Man: Turn off the Dark -- will play host to the U.S. version of Harry Potter and the Cursed Child. From what Pottermore says, part of the discussions to bring Cursed Child to Broadway include a massive, multimillion dollar transformation of the Lyric Theatre.
Currently, the Lyric Theatre has over 1,900 seats, making it one of the biggest theaters on Broadway. That fact seemed like great news, when noting Cursed Child's intentions to set up shop there. After all, given how quickly the West End production's tickets are selling out, it's very likely that it'll be difficult to get seats at the New York venue as well. However, it sounds like this planned big-budget transformation actually includes trimming down the Lyric's seat count from that 1,900 ballpark figure to a more intimate 1,500 seat count. The intention is to "accommodate the dramatic look and feel of Cursed Child." For reference, the Palace Theatre, where Harry Potter and the Cursed Child shows in London's West End, seats 1,400. So New York's show will still be able to seat a few more people at each show. And it sounds like the intention is to ensure the right atmosphere for this play, which isn't a bad thing.
Written by Jack Thorne (with J.K. Rowling involved in the development process) and directed by John Tiffany, Harry Potter and the Cursed Child debuted in London in Summer 2016, officially serving as the eighth story in the Harry Potter series. It picks up nearly two decades after the Battle at Hogwarts, when Harry, Ron and Hermione are adults (and parents!). Though the core trio are pretty heavily featured in Cursed Child, the bulk of the story follows Harry and Ginny's son Albus, as well as (vague spoiler alert!) Draco Malfoy's son Scorpius. In addition to taking the Harry Potter story further, Cursed Child also succeeds in filling some very surprising and interesting tidbits about certain characters from the books.
Shortly after Cursed Child made its official premiere at London's West End, a script book for the play was released, giving Harry Potter fans around the world the opportunity to read the story. While the script sufficiently fills us in on the details, it's no exaggeration to say that Cursed Child was designed to be seen as a live performance, and is well worth seeing, for those hardcore Potter fans who can manage to get tickets. (I had Felix Felicis-level luck in the original online queue to get mine.) Cursed Child's anticipated Broadway debut will certainly open up more opportunities for people to see the play, especially for those who might have an easier (and more affordable) time getting to New York than they would London.
It sounds like final talks for the Broadway production are still underway. It's likely that they'll want to have everything signed and locked down before they start selling tickets for this magical shindig, but we'll keep you posted as soon as there's word on that front.