The Divergent Series Is Getting An Epilogue, Find Out How To Get It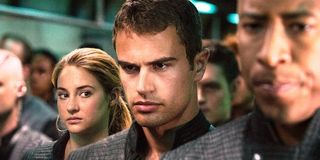 (Image credit: Divergent)
Hey, Divergent fans --- turns out there's about to be a whole new ending to the series! Over three years since the trilogy's final book Allegiant was released, author Veronica Roth has announced that she's written a new epilogue that will be available to fans in just a little over a month. The new story, entitled We Can Be Mended, will focus on the character of Tobias (A.K.A. Four) following the events of Allegiant.
Veronica Roth announced via a video on Twitter that the new Divergent epilogue will be awarded as a gift to readers who pre-order her upcoming release Carve the Mark and submit proof of purchase on the book's website. The offer is valid through the book's release date, which is January 17, so fans have a little over a month to submit their receipts. The website reveals that We Can Be Mended will take place five years after the ending of Allegiant. In her video announcement, Roth said that she had written the short epilogue for herself after feeling the series was missing something.
Check out Veronica Roth's full announcement of the epilogue below
If you've been following the Divergent franchise, you're already well aware that it tends to have trouble when it comes to wrapping everything up, which this new addendum will hopefully respond to. The dystopian young adult series started off as a hit trilogy that went on to spawn an equally massive, star-filled adaptation (I mean, Kate freakin' Winslet was in it), but both the literary and cinematic branches of the series had trouble sticking the landing. A number of fans spoke out about how much they disliked the ending of the book series (if you're cool with spoilers, check out Entertainment Weekly's report on specific fan complaints), and part one of the Allegiant film adaptation delivered dismal ratings and box office returns earlier this year, which forced the rest of the filmed saga to be moved to television with a possibly retooled cast.
Hopefully We Can Be Mended will give the book's fans who felt slighted by the original ending a bit of closure, and it might even help out the cinematic arm of the franchise as well. Since the epilogue focuses on Tobias (played by Theo James in the movies), a small-screen version of it probably wouldn't even require Shailene Woodley or Miles Teller, who were the two stars that were most likely to drop out of a television adaptation.
You can find out for yourself how all this will end by pre-ordering Carve the Mark and claiming your free copy of We Can Be Mended right here.
Your Daily Blend of Entertainment News
Thank you for signing up to CinemaBlend. You will receive a verification email shortly.
There was a problem. Please refresh the page and try again.