J.K. Rowling Is Working On Two New Novels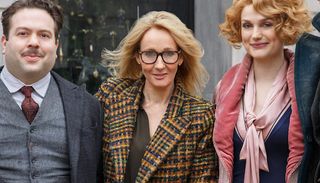 There's more word magic coming your way soon, J.K. Rowling fans! The bestselling British novelist announced on Wednesday that she is in the process of writing two new novels, although it's still not clear whether or not they'll be part of her immensely popular Harry Potter universe.
J.K. Rowling engaged with some fans on Twitter to let them know that there's more new books on the horizon. She said that she's writing two new novels right now: one as J.K. Rowling and the other under her pen name Robert Galbraith. Rowling has used the Galbraith pseudonym since 2013 to publish her Cormoran Strike series of crime fiction novels, saying that she wanted to adapt a new persona for the new genre that she was delving into. Rowling gave fans an update on her progress for the latest Cormoran Strike book on her website, stating...
So it seems pretty clear that one of these novels will belong to J.K. Rowling's crime fiction series, but the one she's writing under her real name is more of a mystery, and could very well be another addition to her magical Harry Potter world. Though Rowling is obviously most well-known for her seven-book series about a realm of witches and wizards and also authoring its numerous supplemental guides, she did author one book completely outside of the magic in 2012: the political fiction book The Casual Vacancy. Since Rowling didn't clarify whether or not the book she's writing under her name will be a Harry Potter book, we don't yet know if she's planning to jump back into that world or further expand her works outside her popular young adult series.
There is one thing that we do know for sure: the new J.K. Rowling novel will not be about her latest film protagonist Newt Scamander. Following the success of the recent film Fantastic Beasts and Where to Find Them, which Rowling wrote the screenplay for and set in the universe of her Harry Potter novels, fans have been clamoring for literature focusing on Scamander. But those fans will just have to be happy with the movies, as Rowling assured her followers that Scamander's story will be told strictly in film.
So will be the next J.K. Rowling book be Harry Potter-related or something totally new? Either way, it's sure to be pure magic!
Photo Credit: Jaap Buitendijk - Copyright: (c) 2016 WARNER BROS ENTERTAINMENT INC. ALL RIGHTS RESERVED
Your Daily Blend of Entertainment News
Thank you for signing up to CinemaBlend. You will receive a verification email shortly.
There was a problem. Please refresh the page and try again.