Young Thug Didn't Show Up For His Music Video, So The Director Made It Without Him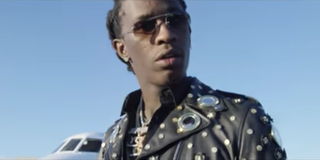 What's a music video director to do when the artist he's working for doesn't show up on the day of filming? Try to execute the few concepts that he was given, piece them all together somehow, and hope for the best. That's what director Ryan Staake was forced to do in the latest Young Thug music video, which Young Thug himself never showed up to film. But in a brilliant move on his part, instead of just attempting to just put together some mediocre rap video that just so happens to not feature the main artist, Staake created a sort of docu-music video about the whole ordeal. The result is a refreshingly unique and eye-openingly meta peek behind the curtains. Take a look at the unusual video for Young Thug's "Wyclef Jean" below.
As you can see, in place of the absent Young Thug, director Ryan Staake makes his own written narration the star of the video clip. Staake attempts to employ the bits of ideas that Thug had given him in a voicemail, including women riding around in kiddie cars and children rolling up in a police car. The video actually does feature Young Thug for a few seconds, since he had sent in a short clip of himself eating Cheetos and rapping along to the song on an airport runway.
As the video continues with Ryan Staake's glib narration of how the dreadful shoot day was going, he reveals that Young Thug actually did manage to make it to set 10 hours after he was supposed to be there, but refused to get out of his car. Apparently, Thug was dealing with an Instagram hack at the time --- HotNewHipHop reports that the rapper's Instagram was hacked back in early October, and his name was also brought up when Blac Chyna's Instagram was hacked in mid-December and the account was posting supposed text messaged between himself and Chyna.
In the end, it might have been a good thing that Young Thug made the video shoot so difficult, because instead of a normal music video, we got a totally brilliant and unique meta narrative. The video is so unique and attention-grabbing, in fact, that some fans might be wondering if the whole catastrophe was staged. After all, Young Thug has gotten a lot of attention for thinking outside of the box with his 2016 mixtape Jeffery, which features an image of him wearing a gown and a song entitled "Harambe." In an interview with TV Booooooom, Ryan Staake confirmed that everything that he writes in the video actually did really happen.
Ryan Staake goes on to say that he still doesn't know what Young Thug himself thinks of the video, although he has heard that Thug's labels approve of it. Another person who approved of Staake's direction is the song's namesake --- Wyclef Jean tweeted that the video is "absolutely brilliant."
This almost definitely wasn't the music video that Young Thug was envisioning, but you really can't argue with the brilliance that was made.
Your Daily Blend of Entertainment News
Your Daily Blend of Entertainment News
Thank you for signing up to CinemaBlend. You will receive a verification email shortly.
There was a problem. Please refresh the page and try again.