Taylor Swift And Zayn Malik's I Don't Wanna Live Forever Full Music Video Is Here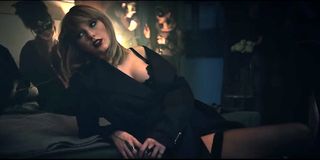 In her brand-new "I Don't Wanna Live Forever" music video, those days of Taylor Swift the curly-haired country crooner or even the polished pop princess are in the past. In her stead stands Taylor Swift the dark, sensual video vixen. The singer took a cue from the themes of the upcoming Fifty Shades Darker and her song partner Zayn Malik to turn up the steaminess in her latest music video. Check out "I Don't Wanna Live Forever" below.
The dark sumptuousness of the video, which appropriately leads the Fifty Shades Darker soundtrack, is a noted departure from Taylor Swift's recent brand of polished power pop. Sure, her "Blank Space" video from 2014 was similarly shot in a lavish mansion, but that video opted for bright and playful campiness, whereas Swift fully embodies the erotic decadence of "I Don't Wanna Live Forever."
The video tells the story of long-lost lovers yearning for one another in separate lavish hotel rooms... or maybe it's the same hotel room? I'm not quite sure if they're trying to do a "same place, different time" type of thing or not. Either way, Taylor Swift and Zayn Malik are doing a great job of making their frustrations known by pouting on the bed in lingerie (that's Swift's part) and just straight-up destroying everything in the hotel room (Zayn showing off his post-boy band angst). In the end, some combination of Swift's pouty-pouty and Malik's smashy-smashy create some sort of dimensional rift where the two separated lovers can stare around each other in a room that's lit by strobing blue and pink lights. I'm thinking this video should probably come with a seizure warning for that scene.
While the steamy song and video is a new style for Taylor Swift, it is right in Zayn Malik's wheelhouse. Since leaving One Direction in 2015, Malik has quickly shrugged off the squeaky-clean boy band image and evolved into a seductive R&B crooner. He released a solo album full of bedroom songs, led by the appropriately titled "Pillowtalk."
For Taylor Swift fans, "I Don't Wanna Live Forever" announces the singer's long-awaited return to the music world. Prior to the Fifty Shades Darker track, Swift hadn't released any new music for about two years, since dropping her hit album 1989 at the end of 2014. Many fans expected Swift to release a full album in the last couple of months, which would stay in line with her schedule of putting out a new record in the fall of every even-numbered year, but instead Swift just released this lone song. Or, maybe she's going to Beyoncé us with a new album tomorrow --- who knows!?
If this new song and video are any indication of what a new Taylor Swift album is going to sound like, then it's about to get steamy!
Your Daily Blend of Entertainment News
Your Daily Blend of Entertainment News
Thank you for signing up to CinemaBlend. You will receive a verification email shortly.
There was a problem. Please refresh the page and try again.