How Much Money Johnny Depp Allegedly Spends Per Month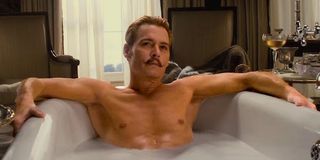 (Image credit: Mortdecai)
Imagine being Johnny Depp. You'd be insanely rich and famous, and could pretty much buy whatever you want, right? Well, not exactly, but that surprisingly does seem to be Depp's mindset. The actor is said to be facing a financial crisis, and his business managers are pointing the finger squarely at the millions of dollars he spends spontaneously on his insanely lavish lifestyle. Apparently, aside from the millions that he will just randomly spend on the fly when he feels like it, he's also spending at least $2 million each month! EACH MONTH!!
Reports of Johnny Depp's ridiculous spending habits arose on Wednesday as a part of his lawsuit against The Management Group (TMG), Depp's former business team. Back in January, Depp accused the company of mishandling his funds and sued them for $25 million, but now TMG is firing back that Depp is actually the one who's been mishandling his own funds by blowing his money at an alarming pace. In documents filed by TMG that PEOPLE obtained on Wednesday, the management firm itemizes Depp's ludicrous purchases, which they allege to be in excess of $2 million per month.
Let's start with a few of the monthly purchases Johnny Depp apparently makes, including tens of thousands every month on imported wines.
If you did the math real quick, you realize that only adds up to $680,000 a month, which --- while still pretty insane --- is less than half of the $2 million that TMG is alleging Depp spends. Well, the real kicker comes when the documents list Depp's exorbitant non-monthly purchases, all of which easily cost the actor millions of dollars. Apparently, Johnny Depp just can't help himself when it comes to buying the most expensive yachts, art, and real estate he can find.
The documents go on to allege that Johnny Depp has spent over $75 million on his fourteen lavish properties around the world, $18 million on a massive luxury yacht, and millions upon millions more compiling an art collection. The most bizarre was $3 million he spent on a cannon made specifically for the purposes of shooting Hunter S. Thompson's ashes out over Aspen... PEOPLE has more specifics on these massive expenses.
On top of all this is the $7 million that Johnny Depp was ordered to pay his ex-wife Amber Heard in their divorce proceedings this year, as the couple had not signed a prenup --- which TMG states was against their advisement to Depp.
Anyway, we'll just have to wait and see how the lawsuit shakes out --- I mean, Johnny Depp could potentially win the $25 million he's suing for if the court actually does find out TMG messed around with his finances. But even if he does win it, judging from these spending habits, it would be gone in a matter of months. He's just gotta have his wine!
Your Daily Blend of Entertainment News