The Most Expensive House For Sale In The U.S. Barely Looks Like A House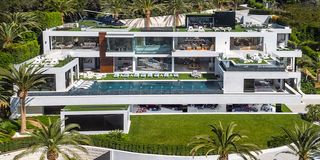 (Image credit: 924BelAir.com)
Remember when you would play The Sims and you would type in "rosebud" or "motherlode" to get unlimited money so you could just go absolutely insane when building and designing you home? Well, now there's a real-life example of that money's-no-object, has-thirty-of-everything fantasy home, and it could be yours if you've got $250 million to spare. If only "motherlode" worked in real life...
A ridiculously opulent mansion in Bel Air just went on sale and is now officially the most expensive home for sale in the United Stated, USA Today (opens in new tab) reported. The 38,000 square feet mansion at 924 Bel Air Road is going for $250 million, which handily beats out the $195 million mansion in Manalapan, Florida that previously held the title. As you can see above, this place barely looks like a house, and is fully decked out in literally every single luxury you can imagine --- it looks less like a house and more like some massive resort or complex.
Of course, the retailer and designer of the house Bruce Makowsky is fully buying into his property's pricey status, selling the insanely opulent mansion as an estate for "the super affluent that demand the very best in life," as he writes in a statement. He goes on to say that he built and designed the property to be the household equivalent of the mega yachts and massive private planes that the rich and famous have grown accustomed to. Having dubbed the property "Billionaire," Makowsky went about outfitting the mansion in the most cutting-edge technology and decadent works of art and design, sparing absolutely no expense.
The new owner will get all of the extras that Makowsky has put into the estate, which includes tens of millions of dollars worth of art and cars. Yes --- you're getting a car collection with this home!
If you couldn't already guess, this place is fit for about 20 families to live in. The mansion has 10 VIP suites and 21 bathrooms throughout its expanse. There's also a seven-person wait staff and a spa included. Oh and of course, a massive infinity pool out front and a helipad on the roof, since you've obviously got to have some place to land your helicopter. Oh, and i should also mention the FREAKING BOWLING ALLEY!
... and the FREAKING MOVIE THEATER!
And if that wasn't enough, you get your very own wall of candy in the game room. A wall of candy!!
Ugh, I have to stop looking at these pics of things I will never have. If there are any millionaires out there that are going to put in a bid for this mansion, can I come to the housewarming party?
All photos are from 924BelAir.com.
Your Daily Blend of Entertainment News
Thank you for signing up to CinemaBlend. You will receive a verification email shortly.
There was a problem. Please refresh the page and try again.