Why Twenty One Pilots Accepted Their Grammy Award In Their Underwear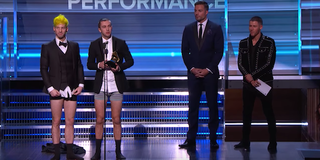 There were certainly a lot of wild moments during this year's Grammy Awards on Sunday night, but the boys of Twenty One Pilots may have taken the cake by accepting their award in their underwear. It was definitely a head-scratching moment at first, but frontman Tyler Joseph gave a pretty awesome explanation behind the pants-less acceptance speech.
Immediately after Nick Jonas announced that Twenty One Pilots had won the Grammy for Best Pop Duo or Group Performance for their song "Stressed Out," Tyler Joseph and Josh Dun got out of their seats and began taking off their pants. Of course, this raised the eyebrows of quite a few members of the audience as well as many viewers --- what are they doing!? Turns out, the whole underwear thing actually had some sentimentality to it, as Joseph explained in his "brief" acceptance speech.
The no-pants move was a way to pay tribute to Twenty One Pilots' beginnings, Tyler Joseph explained in his speech. He told the crowd about a time years back when he and his bandmate Josh Dun were watching the Grammys in their underwear, and they made a promise that if they were to ever win the award, they would accept it just as they were dressed then. He reminded everyone that they were just two kids watching the Grammys in their underwear a few years ago, and ended his speech by saying that their success is proof that anybody can achieve anything.
The speech is actually really fitting in the theme of their Grammy-winning song "Stressed Out," which is all about looking back fondly at adolescence. Although Tyler Joseph and Josh Dun surely didn't seem stressed out to be taking off their pant in front of the whole world! You can watch the full pants-less acceptance speech below.
Your Daily Blend of Entertainment News
Your Daily Blend of Entertainment News
Thank you for signing up to CinemaBlend. You will receive a verification email shortly.
There was a problem. Please refresh the page and try again.