Are Rob Kardashian And Blac Chyna Over? Here's The Latest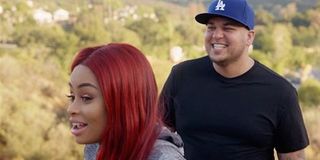 (Image credit: Rob & Chyna)
A lot of crazy shit went down in 2016, but perhaps one of the most confusing and drama-filled aspects of the year in the world of celebrity was the roller coaster relationship between Rob Kardashian and Blac Chyna. The reality show couple were on-again-off-again throughout the entire year, but now it sounds like their volatile relationship has officially come to an end. Sources are now reporting that Kardashian and Chyna have actually been split up for a while now, and called off their wedding plans.
A source close to the couple told PEOPLE that Rob Kardashian and Blac Chyna have called off their engagement and broken up some time ago. Though the Rob & Chyna stars have famously broken up and made up a number of times since they began dating over a year ago at the beginning of 2016, this sounds like the real deal, as the source says they aren't making the split as public or dramatic as they had in the past.
The source goes on to say that Blac Chyna was the one who wanted out, due to Rob Kardashian's "terrible issues." Apparently, she thinks Kardashian is too unstable while battling his insecurities, and that it is not healthy for her or their newborn daughter Dream Kardashian to be around. Now Chyna and Dream are reportedly living separately from Rob.
This split comes a couple months after a major public blow-up between Blac Chyna and Rob Kardashian. In mid-December, Chyna reportedly took Dream Kardashian and left Rob's home; all the while her Instagram was being hacked and the hacker posted test messages allegedly sent from Chyna to other men and friends seeming to expose her for using Kardashian for his fame while she was always planning to end things with him. After the tumultuous weekend, Chyna and Kardashian made up, although now we know that make-up didn't last very long.
Prior to that, it really did seem like Rob Kardashian and Blac Chyna were actually going to make it. Three months after they announced they were dating, the couple got engaged, and just a month after that Chyna revealed that she was pregnant with her second child. The situation was a bit bizarre for people familiar with the Kardashian-Jenner family, since the father of Chyna's firstborn child, King Cairo Stevenson, is the rapper Tyga, who has been dating Rob's half-sister Kylie Jenner for a couple years now. In November, Chyna gave birth to her and Rob's daughter Dream Kardashian.
Now that they are reportedly officially broken up, it will be interesting to see what happens with their reality series Rob & Chyna, which has already been renewed for a second season to air in 2017. I guess we'll just have to wait and see.
Your Daily Blend of Entertainment News