Kylie Jenner Posed Topless With Tyga For His Birthday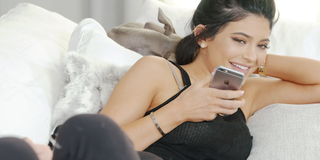 Tyga got a very special birthday gift from Kylie Jenner. Though modeling with her breasts out is more of her sister Kendall Jenner's trademark, Kylie gave it a go to celebrate her boyfriend's 27th birthday. The young reality star and lip kit mogul posed for a sexy photoshoot with Tyga over the weekend that left little to the imagination.
Kylie Jenner posted the sexy photos to her Instagram account on Tyga's birthday this Saturday. The shots feature Jenner straddling and embracing Tyga, holding his head to her bare chest as he puts his hand down her jeans. The photos were taken by Jenner's frequently used photographer Sasha Samsonova.
The sultry photoshoot seems like it must have been a wonderful gift for Tyga, and a special birthday present for Kylie Jenner to give her boyfriend amid a very active birthday season for the whole Kardashian-Jenner clan. Earlier this month, Jenner celebrated the fourth birthday of Tyga's son King Cairo Stevenson with a racecar-themed backyard extravaganza, and more recently, she rang in her sister Kendall Jenner's 21st with a night or partying. Big sister Kim Kardashian's birthday also occurred recently, but since she has been absent from both the public and social media since her robbery at gunpoint a month and a half ago, the family didn't have a big celebration for the reality star's 36th birthday.
Kylie Jenner and Tyga have been dating for about two years now, ever since the rapper broke up with his ex Blac Chyna towards the end of 2014. From the start, Tyga's relationship with Jenner has faced public scrutiny, beginning with the speculation that they began dating when Jenner was only 16 and Tyga was 25, which seemed to violate California's age of consent laws --- to add an extra layer of creepy, Tyga actually performed at Kendall Jenner's sweet 16, and a 14-year-old Kylie danced along to her future boyfriend's music in a 2011 episode of Keeping Up With the Kardashians. Then, when Chyna began dating Jenner's half-brother Rob Kardashian, the media had to resort to drawing complex diagrams to make sense of the developing web. Despite all this, Jenner and Tyga have remained strong for two years, and these pictures definitely show why!
Your Daily Blend of Entertainment News