Rob Kardashian Was Just Rushed To The Hospital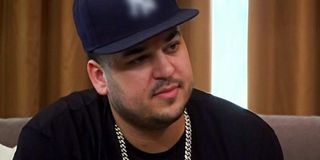 (Image credit: Rob & Chyna)
You can add Rob Kardashian to the list of people who are ready to get 2016 over with already. The reality star was rushed to the hospital following a medical emergency on Wednesday night.
Shortly after Rob Kardashian was admitted to West Hills hospital, his fiancé Blac Chyna and his mother Kris Jenner and her boyfriend Corey Gamble all arrived at the medical center to be with him, PEOPLE reports. TMZ followed up with a report that Rob checked himself into the hospital due to issues related to his diabetes, according to their source.
This reported medical emergency comes shortly after a particular turbulent weekend for Kardashian. Last week, Kardashian issued an apology to Chyna after accusing her of taking their baby Dream Kardashian and leaving their home without telling him. That incident followed a hack of Chyna's Instagram account, during which the hacker posted text messages allegedly from Chyna's phone attempting to implicate her as unfaithful and disrespectful to Kardashian. In his apology, Kardashian admits he did some embarrassing things because he was in an "emotional bad place" at the time. Though never officially diagnosed, many who have followed Rob Kardashian's life for years now have agreed that the star may struggle with depression.
Coincidentally enough, Rob Kardashian was actually rushed to the hospital at the exact same time last year. At the tail end of 2015, Kardashian was hospitalized after a medical emergency and diagnosed with type II diabetes, following a notable weight gain. In the year since then, Kardashian has claimed that his diabetes has gone away thanks to Blac Chyna's positive influence on his lifestyle. However, diabetes can always come back, and that could very well be behind why Kardashian is ending the year in the hospital yet again. It's possible that the "emotional bad place" that Kardashian revealed he was struggling with earlier this month led him to make some unhealthy decisions and cause his blood glucose levels to dangerously spike again.
One small positive is that Blac Chyna is apparently not running out on Rob Kardashian, but instead running to be by his side. The couple had a very public breakup on social media following Chyna's hack two weekends ago, but seemed to reconcile a few days later after Kardashian's apology. Still, the couple hadn't confirmed that they were totally back together after the explosive fight --- it seems like there's still some love between them if Chyna is rushing to the hospital to be with her baby's father during his medical emergency.
After Kanye West's hospitalization for a reported mental breakdown a few weeks back and Kim Kardashian's robbery at gunpoint back in October, the Kardashian family could really use a break from all the tragedy. I'm sure that like the rest of us, they are just counting down the days until this devastating year is finally over.
Your Daily Blend of Entertainment News
Thank you for signing up to CinemaBlend. You will receive a verification email shortly.
There was a problem. Please refresh the page and try again.