Emma Stone Responds To Teenager's La La Land Prom Proposal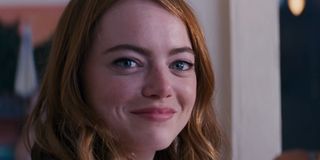 Oscar-winning actress Emma Stone stole the hearts of many as Mia Dolan in Damien Chazelle's La La Land. One young fan from Arcadia High School in Arizona was so impressed by Stone's movie that he decided to ask the movie star to his high school's prom with an adorable "promposal" video inspired by the opening sequence of the film. The student, Jacob Staudenmaier, based his viral video on a dance sequence from the first scene of the movie, which takes place during a Los Angeles highway traffic jam. In an interview via web conference with a morning talk show, Staudenmaier revealed that Stone did reach out to him in response to the top-notch video. The teenager read Stone's message, which went as follows:
Jacob Staudenmaier read the letter from Emma Stone on-air with Good Morning America. Staudenmaier explained that his inspiration for the video was the success of a fellow Arcadia High School student who recorded a "promposal" for Miley Cyrus a few years ago. Miley Cyrus did not attend the prom with Matt Peterson, the maker of the video that inspired Staudenmaier; however, Cyrus did invite Peterson to her concert and bring him backstage. So, after Staudenmaier saw La La Land and liked it so much that he saw it in the theater two more times, he decided it would be fun to create a "promposal" video of his very own to ask the star of his favorite movie to prom.
The high school student wrote new lyrics to "Another Day of Sun," the first big song to play in La La Land. Some of Jacob Staudenmaier's friends offered him support by becoming his camera crew behind the scenes, while others helped him execute the "promposal" on camera as backup dancers. Staudenmaier even dressed up for the occasion in a full tuxedo. You can see more, below.
Per Stone, this guy truly does look like he could be a relative of Ryan Gosling. He may not have received the exact response he hoped to get from the newly crowned Academy Award winner for Best Actress, but it sounds like he and his pals had a great time making memories and filming the video. Besides, Emma Stone took time out of her busy schedule to write him a meaningful message. He probably feels on top of the world because of that simple gesture alone.
Your Daily Blend of Entertainment News
Thank you for signing up to CinemaBlend. You will receive a verification email shortly.
There was a problem. Please refresh the page and try again.