John Daly Just Gave Some Advice About Tiger Woods' DUI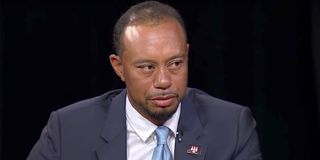 Tiger Woods continues to dominate headlines with news of his May 29 arrest on suspicion of driving under the influence (DUI). On Monday, Woods released a statement to comment on the situation, but fans and friends of the golf star have weighed in since then, too. Now John Daly, Woods's past competitor on the golf course, recently fielded a reporter's question about the matter and shared encouraging words for his former contender. First, to keep Woods out of similar situations in the future, 51-year-old Daly suggested,
Sure, John Daly's words could, perhaps, carry the slightest hint of criticism. However, Daly evidently did not want it to seem like he was chiding his colleague. In fact, he clarified that Tiger Woods's latest misstep does not have to spell tragedy for Woods's future in sports. He continued, saying,
Initial reports indicated Tiger Woods had gotten a DUI, but later it was revealed the 41-year-old professional golf legend released had to do with pills he was taking after back surgeries not booze, and Woods expressly wrote that what happened had nothing to do with alcohol. Regardless, the story seemed to correspond with troubling reports about Woods's behavior from years ago, when he was arrested for reckless driving after he crashed his car and police discovered he had taken Ambien before driving.
So, the points John Daly made in the conversation with TMZ Sports could carry extra meaning, as Daly previously battled addictive behaviors--specifically alcohol abuse--and also shared the golf course with Tiger Woods for years. Daly never received a DUI, but he did reportedly experience moments of despair back when he was in the depths of active addiction. In fact, former Dallas Cowboys football player Thomas Henderson, who has worked in the drug and alcohol recovery field for the past three decades, reportedly helped Daly bounce back from a dark moment in the 1990s. (Daly supposedly stopped drinking for several years but did eventually admit he had decided to have occasional alcoholic beverages in moderation.)
In a different interview, John Daly suggested the world should ease up on Tiger Woods and recognize he is but a person. Daly reportedly has tried to reach out to Woods. (In fact, Thomas Henderson tried to contact Woods, too, and after the DUI report, Henderson tweeted about his desire to share his "experience, strength and hope" with Woods.) Allegedly, Daly has not heard back from Woods, but he indicated that he still wants Woods to know how much everybody cares for him, loves him, and wants him to succeed. Here's hoping Woods takes the positive encouragement to heart.
Your Daily Blend of Entertainment News