The Incredible Amount Of Money Mary J. Blige Is Paying Out In Spousal Support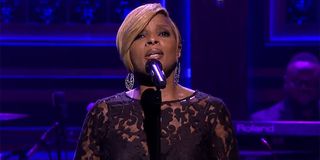 Mary J. Blige wants "No More Drama," but now she is in the thick of it. Recently, a judge ordered the 46-year-old R&B singer to shell out $30,000 per month to her estranged husband, Martin Isaacs, whom Blige is trying to divorce. The judge ordered MJB to pay the spousal support on a temporary basis after Isaacs requested his almost ex-wife pay a whopping $129,319 per month in spousal support.
When Mary J. Blige filed for divorce from Martin Isaacs in July 2016, she charged the prenuptial agreement she and Isaacs both signed waived the right to any spousal support. Nevertheless, the judge decided on the $30,000 settlement to cover the "style of living" Isaacs enjoyed while he and MJB were married. Moreover, the judge required Blige to make retroactive payments to Isaacs back to September of last year. Plus, she has to pay for the attorney fees Isaac's owes. So, the total number of that first check to Isaacs could be somewhere around $235,000. (Ouch!)
But the plot thickens. Back in March, Mary J. Blige revealed she was in debt millions of dollars after she allegedly made zero bucks from the concerts she performed in Europe as part of her recent tour. Plus, she explained she had found herself back in tax trouble. In the court documents, she reportedly said,
(Eek!) Mary J. Blige not only has to recoup the losses for the European leg of her tour, but People says she also has to begin paying $30,000 to a man who, as MJB stated in court documents filed in April, spent more than $420,000 in travel charges with another woman during his marriage to Blige. (Talk about a "Family Affair.") Blige reportedly prepaid the lease on a Mercedes Martin Isaacs was driving then, and Isaacs still had possession of a Grammy of hers as well as other belongings at that time. Blige made her disappointment in Martin Isaacs crystal clear on an episode of Angie Martinez's radio show on Power 105.1.
In that interview, Mary J. Blige indicated one of the reasons she filed for divorce was the fact Martin Isaacs was never around. Apparently, the sometimes actress felt terrible and decided to investigate what her husband was getting up to in private, and whatever it was she found sent her straight to the courthouse to file divorce papers. Here's hoping MJB can swiftly resolve this matter. As long as the divorce proceedings remain underway, she'll be reluctantly scratching her name on those $30,000 checks.
Your Daily Blend of Entertainment News