Why Cindy Crawford Was Scared Of Turning 50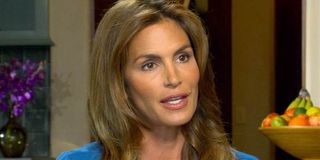 Cindy Crawford transformed what it meant to be a model when she first hit the fashion scene almost 30 years ago. Despite her successes, Crawford had to take stock of her life, and rally some newfound confidence when she entered her fifties. Crawford talked about her evolution in a new interview that made it sound like the fashion beauty is in a great space these days. Still, Crawford said she encountered some mixed emotions within herself when she entered her latest decade of life. She opened up, saying,
Over the years, the 51-year-old supermodel has proven herself to be a force of nature. Cindy Crawford has racked up an impressive number of successful business ventures. She has had long-term contracts with huge brands like Omega, Pepsi, and Revlon, and she has been on the cover of more than 1,000 magazines. Plus, her signature brand, the Cindy Crawford Home collection, nets somewhere around $250 million a year. One might think Crawford would have rock solid confidence, but apparently, she had to do some soul-searching when she turned 50. Still, in spite of her mixed emotions about aging and watching the next generation come of age, she managed to figure out what she wants. Now she is looking forward to the future. Crawford continued, saying,
What a great attitude---onward and upward. Based on other aspects of the interview from Dujour, the famous supermodel seems to enjoy watching her kids pursue activities that helped her become the pop-culture icon she is today. Cindy Crawford's 15-year-old daughter, Kaia, has been following in her mother's footsteps by venturing into the world of modeling and working with fashion brands such as Marc Jacobs Beauty. In fact, Crawford's 17-year-old son, Presley, also found modeling success in a campaign for Calvin Klein.
Cindy Crawford said she neither encouraged nor discouraged her kids from modeling. Instead, Crawford gave her children room to make their decisions because, thanks to age and experience, she came to the realization that kids sometimes pursue paths similar to those of their parents. So she gave her blessing. Now Crawford is watching her children flourish with bright futures, and the pride she undoubtedly feels helps to clears away any misgivings she once had about getting older.
Your Daily Blend of Entertainment News