Cindy Crawford Got Naked In A Tub On Lip Sync Battle For An Epic '90s Callback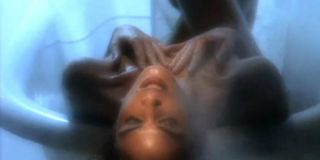 Despite its incredibly simple concept, Spike's Lip Sync Battle has become one of the most popular shows on television. It allows us an opportunity to see sides of celebrities that we would otherwise never get a chance to witness. Speaking of which, iconic supermodel Cindy Crawford recently made a cameo on the series, and we got to see all sides of her in a glorious callback to the 1990s. Check out the clip below to see her awesome appearance.
During a recent episode of Lip Sync Battle, Star Trek actor Zachary Quinto took to the stage for an awesome rendition of George Michael's hit song "Freedom! '90." The performance starts out strong enough, until suddenly supermodel Cindy Crawford appears in her iconic bathtub, completely naked for the world to see. Of course, given the fact that Lip Sync Battle is a nationally renowned television show, they opt to blur out the nudity, but that doesn't change the fact that this is one of the most memorable and impressive Lip Sync Battle stunts in recent memory.
We should also note that I think someone may have placed Cindy Crawford in a hyperbaric chamber since 1990. Seriously, go back and rewatch the video and you will see that I am not kidding around with this. At 50-years-old, the legendary model looks better than some models that are decades younger than her. We're not completely sure what the key to eternal youth it, but Cindy Crawford seems to have found it.
Those of you with a knack for music history will also be able to tell that this isn't nudity for nudity sake. This appearance on Lip Sync Battle actually marks Cindy Crawford reprising her role as the woman in the tub from George Michael's "Freedom! '90" music video from over 25 years ago. People clearly haven't forgotten how much they loved that song, because the crowd went absolutely wild for her and Zachary Quinto during the performance.
In all honesty we would have never thought that a TV series like Lip Sync Battle would become such a phenomenon. That being said, as long as the performers who take the stage keep pulling stunts like this, we will undoubtedly continue to tune in week after week.
As for you, Ms. Crawford, we would just like to tip our hats to you for that amazing performance. Almost three decades later and you've still completely got it.
Originally from Connecticut, Conner grew up in San Diego and graduated from Chapman University in 2014. He now lives in Los Angeles working in and around the entertainment industry and can mostly be found binging horror movies and chugging coffee.
Your Daily Blend of Entertainment News
Thank you for signing up to CinemaBlend. You will receive a verification email shortly.
There was a problem. Please refresh the page and try again.