Naomi Campbell Reveals Her Own Terrifying Paris Robbery Story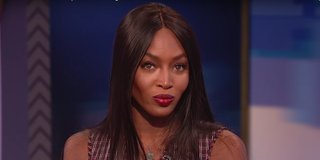 (Image credit: The Wendy Williams Show)
Apparently Kim Kardashian's life-threatening robbery in Paris a few months back may be more common than we thought for famous women visiting the City of Lights! Naomi Campbell revealed that she too was attacked and nearly robbed when she visited Paris a couple years ago.
Naomi Campbell appeared on The Wendy Williams Show Thursday morning, and when the talk show host brought up the supermodel's friendship with Kim Kardashian, Campbell disclosed why she felt so particularly sympathetic towards Kardashian after her robbery at gunpoint back in October. As it turns out, Campbell was also held up by a group of robbers in Paris four years ago.
Naomi Campbell told the whole story to a shocked Wendy Williams and her equally surprised audience. Apparently, Campbell was just popping into Paris for a quick visit with designer and friend Azzedine Alaia back in November 2012. The driver that picked her up from the airport was working with a team of robbers that rushed her after the drive. Luckily, Campbell was already outside of Alaia's home and her friends were able to help scare the robbers away.
After telling the story, Naomi Campbell talked about a ring of Parisian robbers that have been targeting celebrity visitors for years now, saying that she knows a few other famous people who were robbed by them but kept their stories out of the public eye. She went on to decry the people who called Kim Kardashian's robbery story fake.
Naomi Campbell was actually hanging out with Kim Kardashian in Paris just a couple days before the reality star's traumatic robbery. The two women posed for a hair-swinging picture together during Paris Fashion Week.
Watch Naomi Campbell's full Wendy Williams interview below. She begins talking about her robbery at around the 7:20 mark.
Your Daily Blend of Entertainment News
Your Daily Blend of Entertainment News
Thank you for signing up to CinemaBlend. You will receive a verification email shortly.
There was a problem. Please refresh the page and try again.