Pierce Brown Released An Official Look At Red Rising's Darrow Ahead Of Iron Gold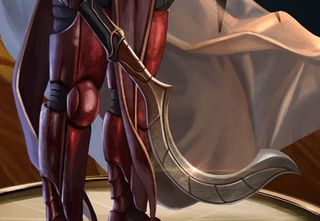 Red Rising fans likely have their own idea about what Darrow of Lykos looks like, however it's no longer entirely up to our imaginations. In anticipation of Iron Gold, the sequel to the Red Rising series, Pierce Brown has released our first ever look at a (fully-canon) depiction of the Reaper...
Darrow -- also now known as Reaper, Reap and most recently, the ArchImperator of the Solar Republic -- is seen looking serious and creased-browed in armor, his golden hair pulled back away from his scarred face. There's a cape blowing behind him, with a symbol that could be something sun-like to represent the Solar Republic. (That's just a guess, judging by the visible black spikes).
I'm loving the red armor, and what looks like a wolf's head on his shoulder. Of course, in his hand is what I'm assuming is his signature razor, taking the shape of the sling-blade.
"If your heart beats like a drum and your leg's a little wet..."
Menacing weapons aside, can we also acknowledge that Darrow is gorgeous? In fact, if this is where Darrow measures on the attractiveness scale, what exactly does handsome Cassius look like?
Because Iron Gold is set to take place a decade past the events of Morning Star, this illustration, which comes from artist Magali Villeneuve, shows Darrow in his early thirties. And it's the fourth illustration reveal for the upcoming Iron Gold, since the anticipated sequel will feature four different PoV characters. Darrow will return as one of the narrators, and he will be joined by three other perspectives, including Lysander au Lune...
And newcomers Ephraim ti Horn...
And the recently liberated Red, Lyria of Legalos.
As much as I'm holding out hope that we'll see more illustrations showing us some of the other characters -- Sevro, Mustang, Cassius and (my own personal favorite) Victra, among others -- these images seem aimed to promote Iron Gold, so we may only see the four central characters. And let's face it, after finally getting to see what Darrow looks like, can we really complain?
Pierce Brown will be spotted around San Diego Comic-Con this week. Those fortunate enough to be within arms reach of the Penguin Random House booth at Comic-Con can earn prints of these PoV character photos for Iron Gold by going to booth 1515-D and whispering "Break the Chains" (while supplies last.)
Iron Gold is currently lined up to hit shelves on January 16, 2018.
As for the Red Rising movie, from the occasional updates Pierce Brown has given on that, it sounds like it remains "in development" for the time being. If there's any movement on that front, we'll be sure to update you.
Kelly joined CinemaBlend as a freelance TV news writer in 2006 and went on to serve as the site's TV Editor before moving over to other roles on the site. At present, she's an Assistant Managing Editor who spends much of her time brainstorming and editing feature content on the site.
Your Daily Blend of Entertainment News
Thank you for signing up to CinemaBlend. You will receive a verification email shortly.
There was a problem. Please refresh the page and try again.