The Cool Way Kanye West Helped A Paralyzed Fan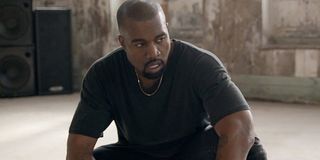 For Tyler Wesley, walking was not an option for a long time; a car accident paralyzed him about five years ago. However, Wesley has beaten the odds and overcome some aspects of paralysis with help from his physical therapists. Now that Wesley can walk, he can walk in style wearing shoes designed by his favorite hip-hop musician, Kanye West. The 40-year-old rapper recently sent a special delivery of Yeezys and a personal letter to Wesley, who shared a photo of the impressive gift with his family and friends on social media. Check out the picture here:
It is heartening to see Kanye West reaching out to his fans this way. West often gets a bad rap for controversial moments that paint him in a narcissistic light. Still, West himself is an inspiration to many people because of his lyrics and his life story, so the beautiful words in the personal note he wrote to Tyler Wesley are a great reminder of how inspirational fans can be for the stars, too. In the letter, the "Jesus Walks" rapper wrote,
Tyler Wesley surely will treasure that note. Of course, the Yeezy Boost 350 v2 shoes in Custom "Cream White" are pretty baller as well. Kanye West probably knows Wesley will look great walking in them one day.
According to TMZ, Tyler Wesley endured a spinal injury in a devastating car accident about five years ago. He had a C-4 vertebrae break and lost the ability to move from the shoulders down. Doctors told Wesley he would never walk again, but with years of therapy and practice and help from a walker, he has managed to get back on his feet---and even walk!
In recent times, Tyler Wesley has been taking to social media platforms such as Instagram to share updates about his recovery. Now he posts encouraging words and video clips that show him literally making great strides with the help of his physical therapist. For example, Wesley posted the following video that shows him standing up on his own. (Prepare yourself. This clip will take your breath away!):
Wow, he is an inspiration indeed! They say you can understand a person if you walk a mile in their shoes. If that is true, Tyler Wesley might know Kanye West on a whole new level soon. Here is a picture Wesley posted of himself walking a 5k with the aid of a walker:
We love hearing about inspiring stories like this one. It is great to see the stars giving back to fans this way.