Why Kim Kardashian May Have Trouble Having A Third Baby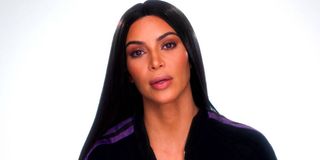 On the Sunday, March 26 episode of Keeping Up with the Kardashians, Kim Kardashian shocked her family, not to mention her loyal audience, with news about big plans for her growing family. The 36-year-old reality TV star revealed that she is going to try to have one more baby with her husband, Kanye West. Kardashian's family seemed rightfully concerned by the news. Kim Kardashian endured the traumatic complications of two high-risk pregnancies, so a third pregnancy could be troublesome, to say the least.
On her E! reality show, Kim Kardashian explained that she wants to have another child because she likes the idea of her children having siblings. It seems like a natural wish for Kardashian, who herself comes from a big blended family with nine siblings--full, half, and step. Unfortunately, the complexities of Kardashian's first two pregnancies make the likelihood of a third pregnancy sound hard--and risky. Here's what Kim Kardashian had to say about the issue:
During Kim Kardashian's pregnancy with her first child, daughter North, she had early-onset preeclampsia, a condition that affects about 5 percent of pregnant women, according to Kardashian. The malady caused Kardashian's body and face to swell abnormally, and she had to deliver baby North at 34 weeks. The delivery revealed a second difficulty called placenta accreta, a serious condition in which the placenta attaches too deeply to the myometrium, which is the muscular wall of the uterus. With placenta accreta, the placenta does not separate properly, causing, among other things, severe bleeding that threatens the life of the mother. Kardashian took to her blog to detail the painful aftermath of placenta accreta and raise awareness of the condition.
She called it the most painful experience of her life and said the doctors even gave her a second epidural to manage the pain. Afterward, a piece of the placenta was still attached to the wall of her uterus, so she had to have two surgeries--one to remove the piece of placenta and another to remove the scar tissue.
Then, near the end of Kardashian's pregnancy with her second child, son Saint, she began experiencing difficulties that appeared to mirror the complications of her first pregnancy. A doctor had told her the preeclampsia seemed to be reemerging. A chiropractor had told her that her spine was compressed. She was extremely swollen. She had skin tags because of her pregnancy hormones.
We think Kim Kardashian and Kanye West's children are as cute as can be, and we know the famous duo have access to some of the best medical care in the world. At the same time, we hope that whatever choices they make will be safe for both mother and child. But we'll let you know if, when and how Baby #3 is ever on the way.
Your Daily Blend of Entertainment News
Thank you for signing up to CinemaBlend. You will receive a verification email shortly.
There was a problem. Please refresh the page and try again.