Kim Kardashian And Kanye West Have Reportedly Hired A Surrogate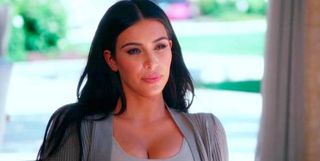 Kim Kardashian has been vocal about her desire to have a third child with her rapper husband, Kanye West. Now the 36-year-old reality television personality might get her wish. Reportedly, Kardashian and West have hired a surrogate to carry their third child.
Apparently, Kim Kardashian and Kanye West used a surrogate recruitment agency to find a surrogate to carry their third child. According to TMZ, the power couple plans to pay about $113,000 for the service. Estimates say Kardashian and West will shell out $4,500 payments over the course of 10 months for a total of $45,000. Also, the service fee from the surrogacy agency will be somewhere around the $68,000 mark.
Supposedly, the agreement contains special conditions. For example, the surrogate stands to receive additional money if the pregnancy brings about an extra child (a common occurrence with in-vitro fertilization). The reports say the surrogate could get $5,000 for each additional child born from the service. The surrogate would also receive compensation in the event of a lost reproductive organ. Furthermore, the surrogate must not drink, smoke, or take drugs during the pregnancy, and she must abstain from sexual intercourse for several weeks before the implantation of the embryo.
Several times on Keeping Up with the Kardashians, Kim Kardashian discussed the possibility of hiring a surrogate to carry her third child. After two complicated pregnancies had left Kardashian unable to carry another child, she began thinking about surrogacy as a serious option to help her and Kanye West expand their family. So, it is fascinating to hear they are following through with the plan.
When Kim Kardashian was pregnant with her daughter, North West, she experienced both early-onset preeclampsia and placenta accreta. Her body and face swelled an abnormal amount, and she had to deliver at 34 weeks. Then when she was pregnant with her son, Saint West, she endured similar symptoms. After Saint was born, Kardashian had surgery to repair a hole in her uterus. When everything was said and done, the doctor told her she could not carry another child.
Naturally, Kim Kardashian's famous family members were concerned when she first announced her interest in having another child. However, they rallied behind her in support when she spoke about asking a surrogate for help. In fact, her sisters, Khloe Kardashian and Kourtney Kardashian, and her mom, Kris Jenner, indicated they would carry a third child for Kim Kardashian if they could. Khloe Kardashian even went as far as speaking to a medical professional about her chances of helping.
Now that Kim Kardashian and Kanye West are reportedly on the surrogacy bandwagon, they join other celebrities utilizing surrogacy services these days. For example, Elementary star Lucy Liu had a son via surrogacy. Jimmy Fallon and his wife received help from a surrogate to have a child. Katey Sagal, Tyra Banks, and Sarah Jessica Parker are also among the list of stars who have opted for surrogacy. It will be interesting to see how Kim Kardashian broaches the topic on the next season of Keeping Up with the Kardashians.
Your Daily Blend of Entertainment News
Your Daily Blend of Entertainment News
Thank you for signing up to CinemaBlend. You will receive a verification email shortly.
There was a problem. Please refresh the page and try again.