Kim Kardashian Is Back On Instagram, For Real This Time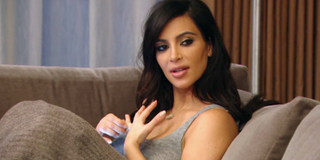 (Image credit: Keeping Up With the Kardashians)
2017 is already looking up for Kardashian fans! After spending the final three months of 2016 completely offline, Kim Kardashian returned to her throne as the queen of social media with an adorable family photo and a one-word message to her fans: "Family." Check out the post that marked the end of the Kim K. social media drought below.
On Tuesday, exactly three months since the news broke of her robbery at gunpoint in Paris, Kim Kardashian made her highly anticipated return to social media by posting a sweet candid photo to her Instagram of herself, husband Kanye West, and their two children North and Saint West hanging out on a patio. Not only is the family photo notable for being Kardashian's first post after months of silence, but it also seems to reaffirm her commitment to her family amidst separation rumors in tabloids.
It looks like we can finally get back to business as usual for the Kardashian-West's in 2017. The post marks the end of a three-month period since she was held at gunpoint in a Paris hotel room that Kim Kardashian had not posted anything on any of her social media accounts. The silence was especially shocking since the reality star has become well known for her incredibly active social media presence, and would post multiple times to her Twitter, Snapchat, Instagram, and other accounts every day. The night of her robbery, Kardashian had posted a selfie showing off the large diamond ring that was targeted by her robbers hours later. Following the burglary, Kardashian deleted that post, and was reportedly so shaken by her near-death experience that she took a break from all social media in the aftermath.
Though this marks Kim Kardashian's first actual Instagram post since the traumatic experience, eagle-eyed fans have noted that she hadn't completely shut her phone off at the end of 2016. Back in November, Kardashian logged back into Instagram to follow a few celeb accounts: Ariana Grande, Sofia Richie, and her former employer Paris Hilton. And just a couple weeks ago, Kardashian got a bit cheeky on a newly created account for her Kimoji merch store, where she posted a few videos of her famous derriére to advertise her new underwear line.
Though fans were more than happy to see Kim Kardashian back on social media, it wouldn't be truly a Kardashian moment if there wasn't a bit of drama involved! Before Kardashian posted her family photo, she shocked some very attentive fans with an eyebrow-raising name change on Twitter. For a few brief moments on Tuesday morning, Kardashian's Twitter name was simply "Kim" instead of "Kim Kardashian West," as Teen Vogue noted, but then Kardashian quickly changed it back to her full married name. So could that quick name change spell discord for her marriage to Kanye West as some outlets have been reporting, or should we be putting more weight in the "family" message of her Instagram post soon after? One thing's for sure: it's going to be a very exciting 2017 now that Kim is finally back online!
Your Daily Blend of Entertainment News
Thank you for signing up to CinemaBlend. You will receive a verification email shortly.
There was a problem. Please refresh the page and try again.