Check Out Kim And Kanye's Beautiful Family Easter Image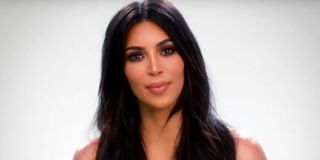 Kim Kardashian and Kanye West had a great time getting into the Easter spirit this year. The celebrity power couple commemorated the holiday by capturing priceless family memories in pictures, which included a beautiful family portrait of the West household. Kardashian took to social media to share the family photo, in which Mr. and Mrs. West stood side by side while their son Saint West was held by his famous mom, who had a hand on her daughter North West's shoulder. They had even accessorized North West in golden bunny ears and fuzzy white slide slippers for the fun family photo. The West family wore their Easter Sunday best for the picture. Take a look at the popular photo, below.
The photo, which Kim Kardashian posted to her Instagram account, was one in a series of images from the family's Easter celebration. Two other photos showed a certain someone dressed up in a full Easter Bunny costume. In case there were any questions about who might have been behind the mask, Kardashian captioned the photo "Dadye" to let us know it was her famous husband who had hopped on over to greet the kids.
Apparently, the pictures came from an Easter Sunday celebration that included Kim Kardashian's sister, Kourtney Kardashian, and their friends, Chrissie Teigen and John Legend. From the looks of it, the A-list celebrities brought their kids along for a fun-filled afternoon. In fact, Legend joined Kanye West in dressing up as an Easter Bunny at the event, so there were double the smiles for the kiddos. Kim Kardashian also reportedly posted a Snapchat video of the two Grammy-award winners dressed up and ready to entertain the children.
None of the pictures, including the family portrait, have the exact whereabouts of the family. Kardashian has avoided adding location details to her photos as an added safety measure after the memorable robbery. It's important for Kim Kardashian to keep some boundaries because the past several months have taken her family on an emotional roller coaster. So, it is nice to see them together for a peaceful holiday moment after all that occurred last year.
We could not help but wonder if, perhaps, future holiday photos from the West household could have another child in them. Earlier this month, Kim Kardashian revealed on Keeping Up with the Kardashians that she is considering her options for having a third child. The 36-year-old reality-television personality said she is thinking about asking a surrogate for help, but she did not confirm whether she planned to pursue the idea. Regardless, if she and Kanye West decide not to pursue having a third child, we bet they will still take many adorable family photos like this one down the road.
We remember being little and taking family photos on holidays, but most of our parents were not two of the biggest celebrities in Hollywood. Therefore, this picture manages to be relatable--but not. Isn't that what we like so much about Kim Kardashian (who, by the way, looks like the reincarnation of Cleopatra at the moment) and her famous family? We'll be keeping up with the future Kardashian-West photos, and of course, we'll be bringing you the best of them.
Your Daily Blend of Entertainment News
Thank you for signing up to CinemaBlend. You will receive a verification email shortly.
There was a problem. Please refresh the page and try again.