Why Mighty Ducks Actor Shaun Weiss Was Sentenced To Jail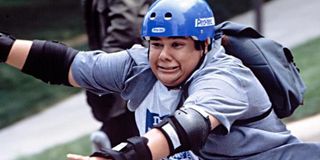 Former child actor Shaun Weiss was one of the stars of The Mighty Ducks and its sequels. He was on the trajectory to big success back in the 90s. But, oh, how the "Mighty" have fallen. Reports say a court just sentenced the 38-year-old actor to jail for 150 days. Apparently, Weiss pleaded no contest to the charge of petty theft after stealing merchandise from an electronics store in Los Angeles, California, this summer.
Reportedly, Shaun Weiss took $151 of products from Fry's Electronics in L.A. The actor, who played Greg Goldberg in the hockey films created by Disney, came forward two days after the incident and pleaded no contest to the charges. Weiss received 150 days in the Los Angeles County Jail as a result. It might seem like a stiff sentence. After all, it breaks down to a day behind bars for every $1.02 of merchandise Shaun Weiss stole. However, the reason Weiss received jail time is that this offense was his second of its nature, so said TMZ.
Shaun Weiss also had a brush with the law in 2013 when his ex-girlfriend obtained a restraining order against him and accused him of domestic violence. She alleged Weiss beat her up during a drunken episode and threatened her with a machete. However, reports about that particular case became muddled because Weiss was the one who called the cops, and the police arrested the ex-girlfriend, not him. Moreover, a judge later dismissed the case and dissolved the restraining order.
Regardless, it sounds like times have been tough for Shaun Weiss since his big moment in the 80s and 90s. He got an early start in Hollywood in shows like Webster. Then, after his turn as Goldberg in The Mighty Ducks, Weiss had parts on popular shows like Freaks and Geeks, Boy Meets _World, and _Saved by the Bell: The New Class. He also appeared on a few episodes of The King of Queens.
But in recent years, Shaun Weiss has had to focus on independent projects and stand-up comedy gigs, and he seems not to have had much luck at making a Hollywood comeback. In fact, in 2014, Weiss tried to raise $21,000 through a crowdfunding campaign to fund an independent film; unfortunately, he only got $210 in total. It's a shame because Weiss was funny as Goldberg, and The Mighty Ducks was a big springboard to career success for other celebrities like Joshua Jackson, Kenan Thompson, and Marguerite Moreau.
According to Weiss' manager, Don Gibble, the 38-year-old actor plans to devote any free time he might have in jail to the development of new material, perhaps for a script or for his stand-up comedy routine. That sounds like a wise use of his time behind bars. Here's hoping Shaun Weiss' personal life takes a better turn soon.