How Queen Elizabeth Felt When Princess Diana Died, According To A New Letter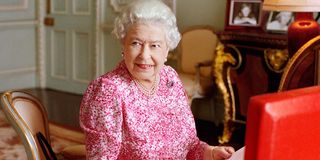 A letter Queen Elizabeth II wrote six days after the death of Princess Diana is shedding light on the matriarch's state of grief immediately after the death of her ex-daughter-in-law. In the letter, which Queen Elizabeth II wrote to her aide, Lady Henriette Abel Smith, the queen touched on the sadness in her heart, but she kept an upbeat tone. She wrote,
In the days after Princess Diana's death, critics chastised Queen Elizabeth II's apparent attitude toward the matter. Queen Elizabeth II was in Balmoral, Scotland, on vacation with Prince Charles, Prince William, and Prince Harry, and when she did not return to London right away to speak, she received additional backlash. So this letter, which ABC revealed, is important to see because it retroactively helps to add warmth to Queen Elizabeth II's immediate reaction.
Queen Elizabeth II did give a powerful speech on the night before Princess Diana's funeral. That moment combined with information from this letter helps to paint a clearer picture of Queen Elizabeth II's emotional state. We knew she chose to stay in Balmoral to be with her grieving family, and now we know she felt devastated by the loss, especially because of the enormous impact it had on her grandkids.
The twentieth anniversary of Princess Diana's death is right around the corner, so this news is, of course, one of many items we have seen about the People's Princess. For example, Prince William and Prince Harry recently filmed the documentary Diana, Our Mother: Her Life and Legacy, and they spoke with individuals who received help from Princess Diana. Furthermore, People and ABC put together a documentary, The Story of Diana, in which two former royal drivers talked about retrieving Princess Diana's body from Paris.
Similarly, Prince William gave an interview earlier this year and spoke about wishing his mom were alive to see his achievements. Plus, Prince Harry recently opened up about seeking therapy to deal with the trauma of his mother's death and the media blitz that followed. In fact, Prince Harry revealed he once thought about leaving the royal position, and he talked about how hard it was to walk behind his mom's casket. He said people would never in their right mind ask a kid to do that today. His uncle on Princess Diana's side, Charles Spencer, agreed in a BBC interview and said essentially the same thing.
So, the stories about Princess Diana certainly are on people's minds as the 20-year milestone approaches. Seeing this letter certainly helps to cast a better light on Queen Elizabeth II's reaction, and it shows why she stayed behind with the family instead of racing back to London for tributes. Clearly, Princess Diana's death had an enormous impact on everyone in the family, including the queen, and that impact was likely heightened by how strained the fallout from the divorce had gotten in the months leading off to Princess Diana's death (For example: the kids hadn't seen their mother for a month prior to her death. You can read about that here.).
Princess Diana may be gone, but her warmth and her spirit will be remembered for generations to come.
Photo courtesy of the Royal Family.
Your Daily Blend of Entertainment News
Thank you for signing up to CinemaBlend. You will receive a verification email shortly.
There was a problem. Please refresh the page and try again.