Prince Harry Says He Once Wanted Out Of The Royal Family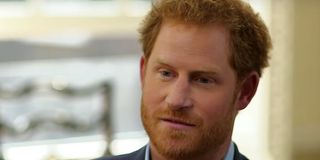 Not all that glitters is gold when it comes to life as a member of the British Royal family, and Prince Harry accentuated that point in a recent interview. In the discussion, the 32-year-old prince revealed he once felt so conflicted about his life that he came close to giving up his Royal status. Prince Harry explained, saying:
Prince Harry had plenty of reasons not to want to be part of the Royal family. In the Newsweek magazine interview with journalist Angela Levin, he talked about how he was but a child when his mother, Princess Diana, passed away. He witnessed the media circus over the incident firsthand, and the whole ordeal left him with deep-seated trauma for nearly two decades. The disillusionment he felt toward Royal life lingered long into his twenties, and then he experienced additional frustrations that made him question the value of being a prince.
The Daily Mail reported how Prince Harry had talked about feeling discouraged when the option to work in the Army was taken away from him. Prince Harry described to Angela Levin what happened, and suggested that his time working in the Army was one the happiest times of his life.
In the Army, Prince Harry had felt like he was accomplishing something important, and being part of the Army helped him to feel part of a team. Additionally, he suggested the miltary was a great way for him to escape the turmoil of his life as a Royal. He explained, saying:
During his ten years of service, Prince Harry served in Afghanistan twice. However, when the media caught wind of the prince's presence there, he had to leave for security reasons. Being forced to quit the Army left Prince Harry with a lot of resentment. When he returned to his duties as a prince, he found it difficult adjustment at first. Then at the suggestion of his older brother, Prince William, Prince Harry eventually found his cause and took on work helping wounded veterans.
These days, Prince Harry seems happier than ever. He is in a blossoming relationship with Suits actress Meghan Markle. Plus, he seems to have found his niche working with vets and helping people overcome the stigmas attached to mental health problems, so he no longer considers giving up his Royal status.
At the same time, Prince Harry says he is not interested in the crown at all. In fact, according to him, none of the younger-generation Royals are too interested in the crown. Like him, they all want to keep focused on using their Royal status as a platform for positive change in the world.
Your Daily Blend of Entertainment News