Prince William And Prince Harry Hadn't Seen Princess Diana In The Month Before Her Death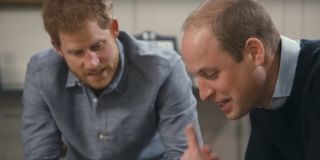 The twentieth anniversary of Princess Diana's death is nearly upon us, and with the date looming, there's a new documentary with Prince William and Prince Harry looking back at their mother's life. The film shines a light on the fact that the Duke of Cambridge and his younger brother had not seen Princess Diana in a month when she passed away on August 1, 1997. At that time, the People's Princess and Prince Charles had a custody arrangement that kept the boys traveling back and forth. The princes were with their father when their mother died. In the documentary, Prince Harry illuminates this subject and says,
It turns out Prince William and Prince Harry had plans to see their mother on the day that she and her boyfriend, Dodi Fayed, died in a car accident in Paris. The boys and Princess Diana had been apart for weeks. The princes were vacationing with Prince Charles and Queen Elizabeth II in Balmoral, Scotland. Meanwhile, Princess Diana was busy making humanitarian trips, including a journey to Bosnia to speak out against the use of landmines.
In the documentary, Diana, Our Mother: Her Life and Legacy, Prince Harry talks with Zarko Peric and Malic Bradaric, landmine victims who spent time with Princess Diana during her Bosnia trip. Prince Harry tells Peric and Bradaric that they were two of the last people to see Princess Diana. Furthermore, he talks about the final phone call he and his mom shared before she passed away. In a heartbreaking moment, Prince Harry says,
Luckily, Prince William and Prince Harry had spent some quality time on a vacation with Princess Diana and the Al Fayed family earlier that summer. Still, the death of their mom and the media circus surrounding her passing had lasting effects on both young men. In fact, Prince Harry recently talked about seeking therapy years after her death to deal with the residual trauma from that time.
Nevertheless, Prince William and Prince Harry seem to have let that moment inspire their works of social activism. For example, the princes and Princess Catherine developed the social campaign Heads Together to combat stigmas that keep people from seeking help for mental health matters. By reflecting on the tragedy and helping others who might be struggling, the princes are showing themselves to be men of great character.
Your Daily Blend of Entertainment News