Did Prince Harry Really Go Way Out Of The Way To Get Meghan Markle To Pippa's Wedding Reception?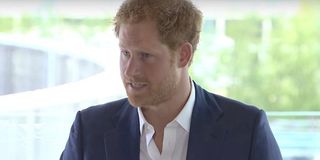 Prince Harry would drive 100 miles, and he would drive 100 more. Reportedly, Prince Harry made a lengthy drive of 100 miles to fetch his American girlfriend, Meghan Markle, from London to bring her to the reception for Pippa Middleton and James Mathews' wedding on Saturday, May 20. Some newer reports suggest the long drive may never have happened, but either way, it still sounds like Prince Harry is going the extra mile for love.
There was speculation about how Prince Harry's 35-year-old actress girlfriend would attend events for the high-society wedding between Kate Middleton's sister and her millionaire hedge-fund operator fiancé. Apparently, reports Meghan Markle would attend only the reception were correct. When the paparazzi spotted Prince Harry driving an Audi with Markle in the passenger seat, it bolstered claims the two are getting closer in their budding relationship. Plus, it led the rumor mill to say Prince Harry made a 100-mile dash back to London to retrieve Markle from Kensington Palace and bring her to the reception. However, Daily Mail indicates that road trip never happened because Markle was tucked away in a suite near the reception. Whether or not the drive occurred, the goal remained the same. Prince Harry supposedly wanted to keep Markle out of the press because appearing as a couple might seem tantamount to giving her an engagement ring.
For similar reasons, Meghan Markle did not receive an invitation to the wedding ceremony, which took place at St. Mark's Church Englefield. However, the Suits star did receive an invitation to attend the reception at the £6 million home of the Middleton sisters' parents in Buckleberry, Berkshire. Supposedly, the decision not to invite Markle to the ceremony was not a knock at the 35-year-old actress as a person. Instead, Pippa Middleton purportedly wanted to keep the focus on the wedding without rumors of Prince Harry's blossoming relationship overshadowing the special event.
Furthermore, reports indicate Meghan Markle took Pippa Middleton's hint not to upstage the bride and decided to wear a neutral color to the reception. Markle supposedly wore black, which traditional etiquette would call a fashion faux pas for a wedding. However, she attended only the after party. Besides, times have changed. If Markle did wear a black dress, at least she chose a neutral color for the evening occasion. Still, there is no confirmation about what exactly she wore because the paparazzi merely spotted her in the car with Prince Harry, and photographers were not allowed at the private reception.
It is worth noting James Mathews' brother, reality television personality Spencer Mathews of Made in Chelsea fame, was not allowed to bring his main squeeze, fellow reality television personality Vogue Williams, to the wedding ceremony nor the reception. Therefore, it sounds like Meghan Markle was among the lucky ones to make the cut. Rumors say the wedding had a "no ring, no bring" policy for etiquette. Pippa Middleton managed to sidestep that rule to allow Prince Harry to bring Markle to the reception. Middleton allegedly did not think it appropriate for Spencer Mathews to bring his girlfriend of a few months, but appreciated how Prince Harry and Markle had been together for nearly a year.
If Prince Harry did make a 100-mile jaunt to retrieve Markle, it would not have been the first time he traversed long distances to spend time with his sweetheart. Earlier this year, Prince Harry flew to Canada to visit Markle in Toronto, Ontario, where she films scenes for Suits. In fact, he decided to make the transatlantic journey instead of attending the traditional royal services for Easter at St. George's Chapel with Queen Elizabeth II, Prince William, and Kate Middleton.
So, no matter how far Prince Harry drove to get Meghan Markle, it sounds like he is smitten with her. Perhaps another royal wedding is on the horizon. We'll be sure to let you know.
Your Daily Blend of Entertainment News
Thank you for signing up to CinemaBlend. You will receive a verification email shortly.
There was a problem. Please refresh the page and try again.